Regular price
Sale price
$49.95
Unit price
per
Your vitamin & mineral needs are fully covered with our expert-formulated prenatal vitamin & mineral complex.
1 bottle shipped every month
Fast shipping | 2-4 business days
Transit times reflect continental US shipping. Canadian shipping ranges from 3-9 business days. Carrier delays due to seasonal peaks or weather conditions may occur.
Highlights / Why You'll Love It:
RD-formulated, MD & OBGYN recommended
Full 3rd party testing transparency
Non-GMO + Allergen friendly
FSA / HSA eligible
Bioavailable nutrients
Essenced with organic lemon oil packet
Details

FullWell Women's Prenatal with Lemon Essence delivers optimal, evidence-based forms and doses of nutrients in one potent yet easy-to-tolerate formula. You'll find fertility non-negotiables like folate, B12, and chelated minerals in active, bioavailable forms, plus essential pregnancy nutrients that other prenatals skimp on like choline, calcium, and magnesium. The addition of our premium, organic lemon essence packet helps balance the smell of our nutrient-dense formula to support those experiencing heightened senses during pregnancy and breastfeeding.

Free of the following allergens: gluten, wheat, dairy, peanuts, tree nuts, shellfish, eggs, sesame, corn, and soy.
Testing

FullWell exceeds current prenatal standards by using third-party, independent testing for harmful contaminants - including heavy metals - on every single lot we produce. To see testing results for your lot, email cs@fullwellfertility.com.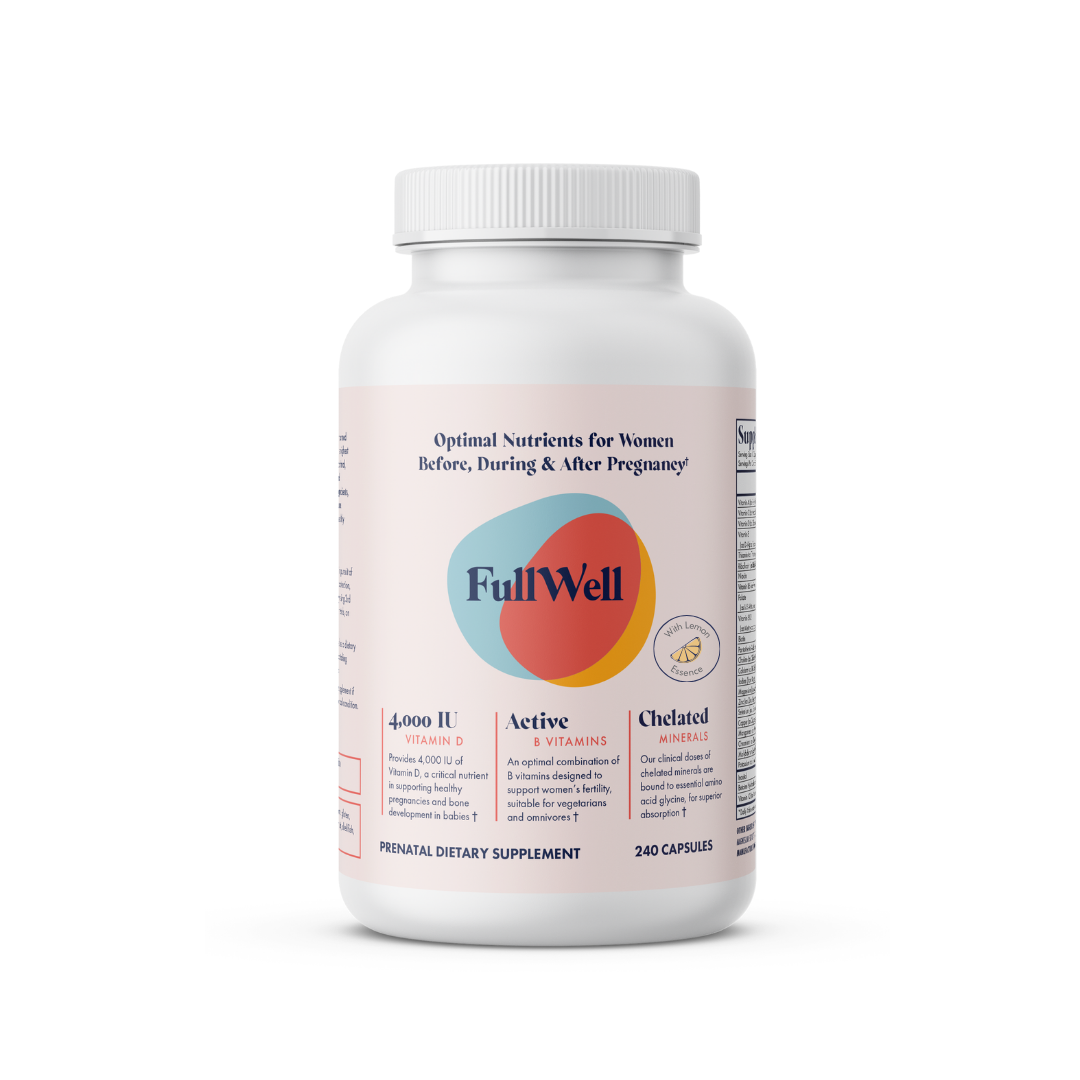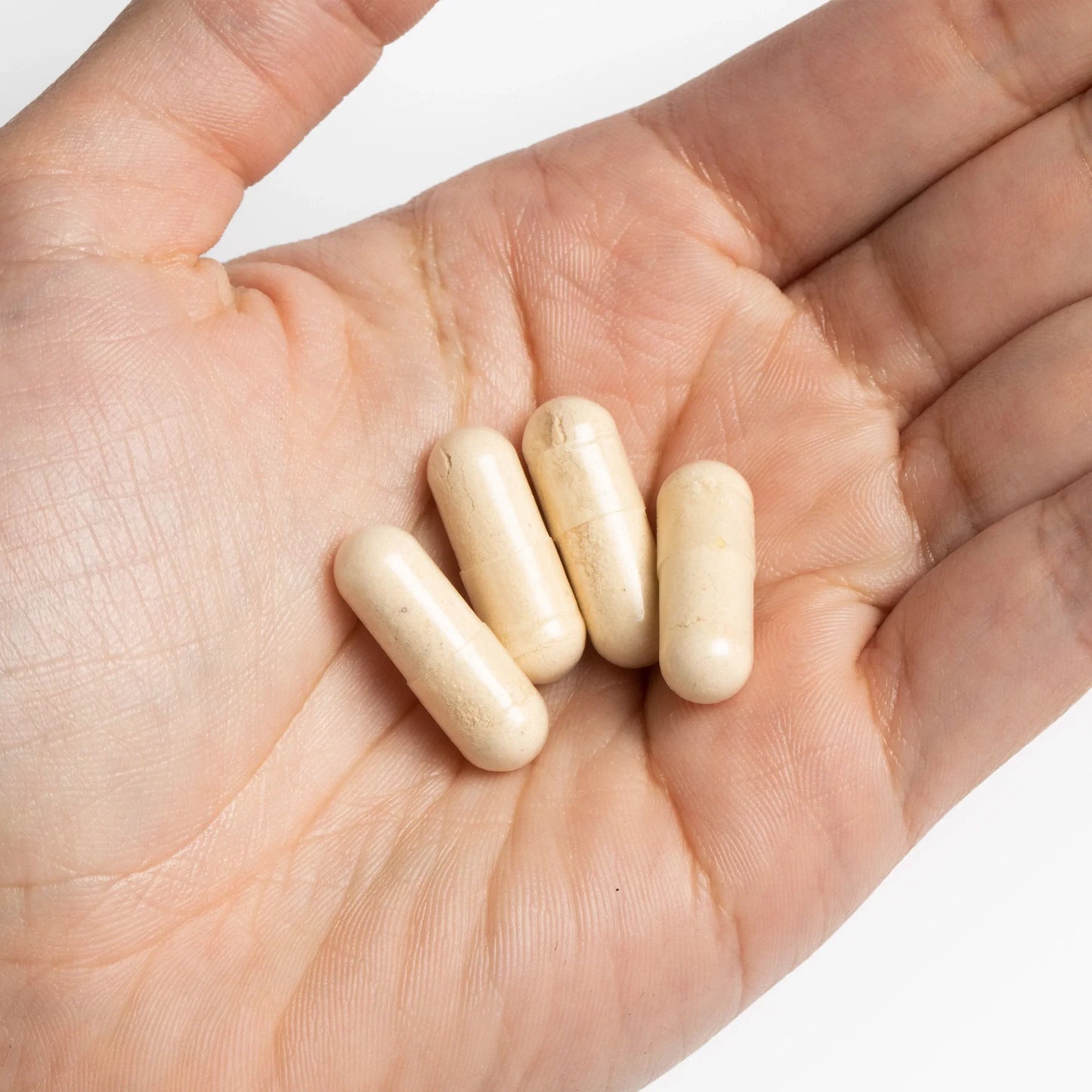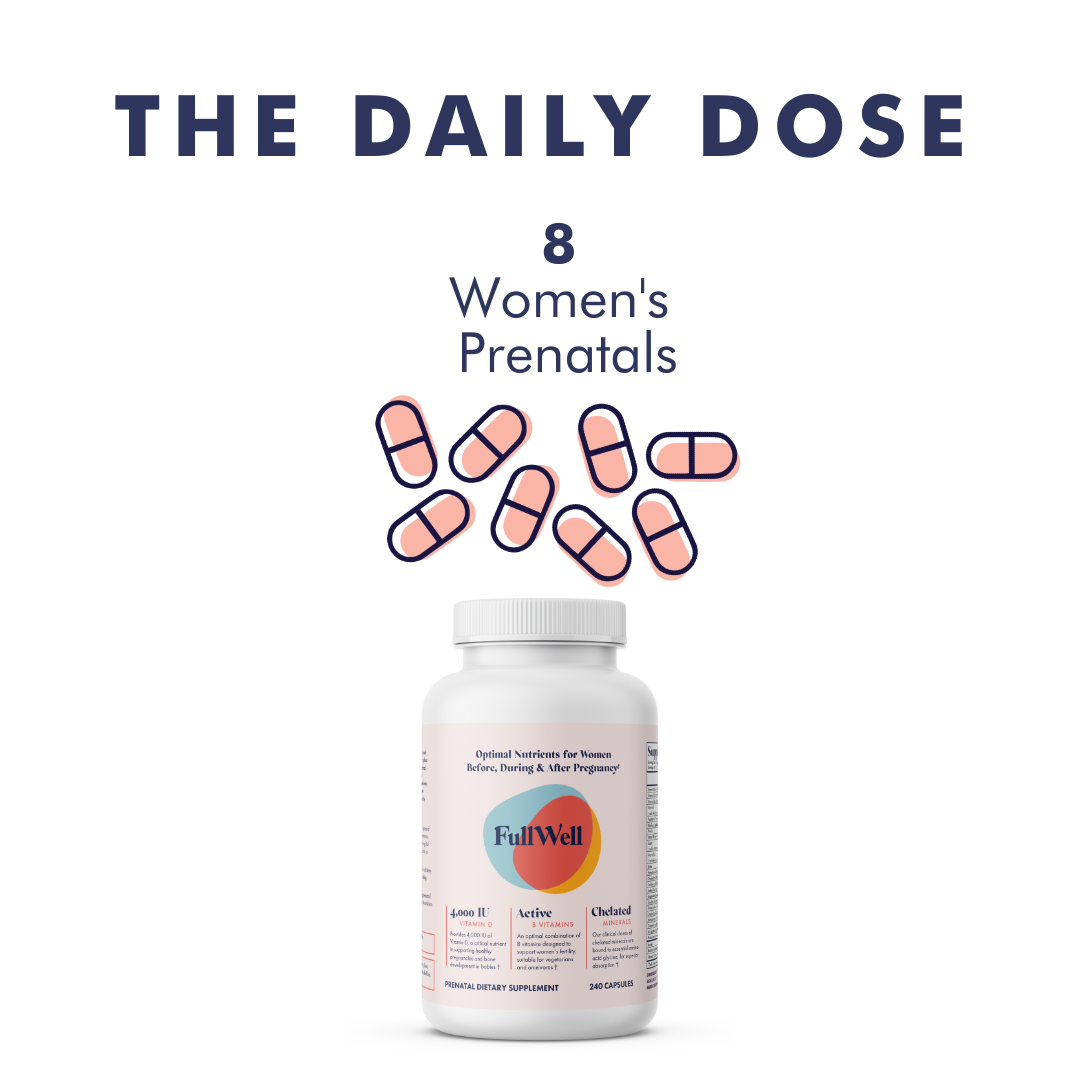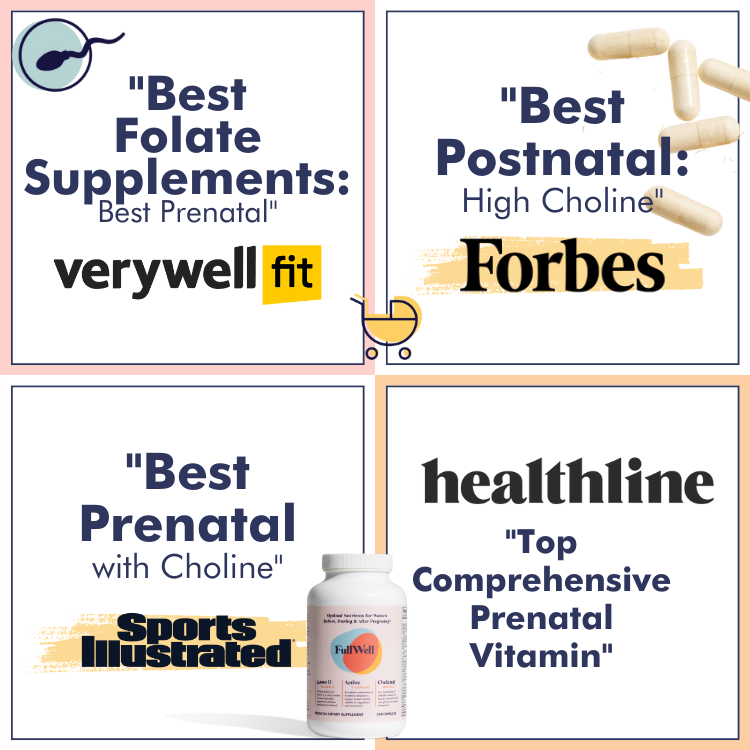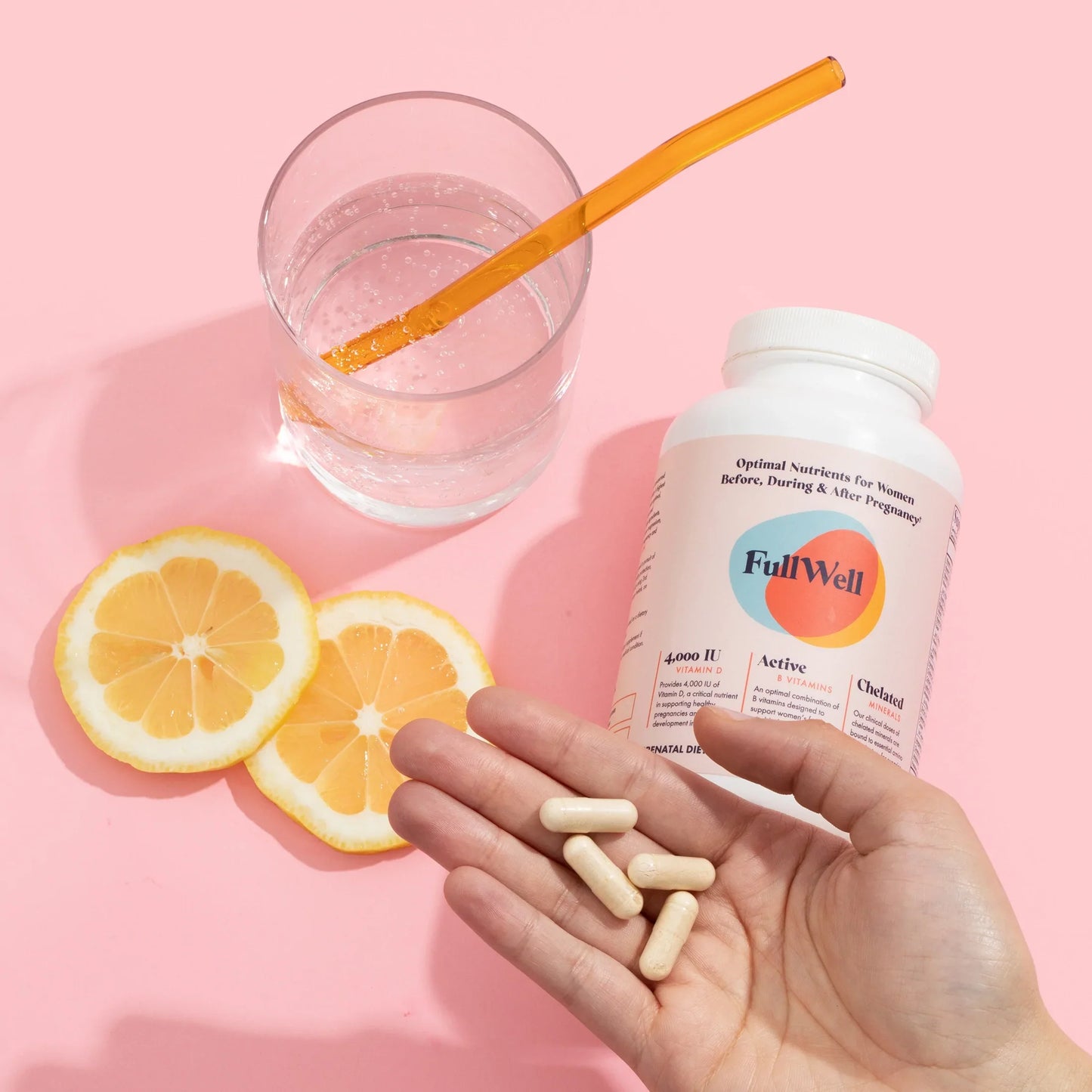 Taking Your Prenatal

ALL AT ONCE
If you can tolerate 8 at once, go for it! Just make sure you drink plenty of water.

DIVIDE YOUR DOSE
4 at breakfast + 4 at lunch

MIX IT UP
Break open your capsules and mix them into your favorite cool beverage
Ingredients at a glance
Folate
Supports normal neural tube formation*
Supports baby's heart, growth, and more*
Choline
Supports normal neural tube formation*
Aids placental function*
Assists brain development*
Vitamin D
Supports growth and skeletal development*
Promotes healthy blood pressure levels*
Fortifies baby's immune system*
Vitamin K2
Works synergistically with vitamin D & calcium*
Supports baby's skeletal development*
Maintains mom's dental health*
Magnesium
Supports sleep*
Supports mood*
May help ease nausea*
Calcium
Supports the normal formation baby's nervous & circulatory systems*
Supports musculoskeletal system development*
Iodine
Required for normal thyroid function*
Protects endocrine health*
Supports breastmilk production*
Vitamin B12
Promotes healthy, full-term pregnancy*
Supports neural tube formation*
Supports baby's long-term motor development*
Biotin
Supports metabolism of fatty acids, glucose, and amino acids*

Helps with gene regulation and cell signaling*
Chromium
Helps maintain normal glucose levels*
Supports carbohydrate, lipid, and protein metabolism*
Copper
Helps form baby's heart, red blood cells, and blood vessels*
Supports formation of skeletal and nervous systems*
Magnesium Stearate
Improves consistency of capsule quality
Delays breakdown and absorption of capsules
Manganese
Helps develop baby's bones and cartilage*
Metabolizes carbohydrates, amino acids, and cholesterol*
Supports healthy blood pressure levels*
Molybdenum
Vital for healthy liver detoxification*
Enzymatic cofactor involved in many types of metabolism within the body*
Niacin
Essential for baby's brain development*
Nurtures the nervous system*
Supports healthy mucous membranes*
Pantothenic Acid
Aids hormone and cholesterol production*
Necessary for chemical reactions within cells*
Helps metabolize carbohydrates, fats, and proteins*
Potassium
Helps maintain balance of fluids and electrolytes*
Helps regulate muscle contractions and nerve signals*
Riboflavin
Promotes good vision and healthy skin*
Supports growth of baby's bones, muscles, and nerves*
Supports healthy blood pressure*
Selenium
A powerful antioxidant that fights oxidative stress*
Plays a key role in thyroid hormone synthesis and function*
Thiamin
Helps convert carbohydrates to energy*
Supports nervous system*
Needed for normal muscle function*
Vitamin A
Develops healthy eyes and vision*
Supports immune responses in baby and mom*
Stimulates healthy thyroid function*
Vitamin B6
Supports mood*
Enhances sleep*
Reduces nausea*
Vitamin C
Antioxidant that protects against free radicals*
Plays a huge role in immunity and inflammation*
Vitamin E
Powerful antioxidant*
Supports lung development and immune function in baby*
Increases circulation and mitochondrial health in mom*
Zinc
Key to healthy immune function*
Supports healthy, full-term birth*
Keeps hormones regulated*
Myoinositol
Makes insulin more effective*
Supports egg quality*
Betaine HCl
Supports digestion*
More efficient absorption of other critical nutrients
Builds tolerance
Women's Prenatal Multivitamin with Lemon Essence FAQs
Why is the serving size 8 capsules?!

We use more choline, magnesium, and calcium than most prenatals. These three critical nutrients are BIG but necessary for healthy fertility, pregnancy, breastfeeding, but difficult to get enough through diet alone.
Why doesn't your prenatal contain iron?

Iron needs and tolerance vary significantly by individual. We suggest you monitor your iron status with your healthcare practitioner and if you do need supplemental iron, take it separately in appropriate doses at their recommendation. This way, you don't risk having iron interfere with the absorption of other critical nutrients in your prenatal.
Why is my urine bright yellow after taking my vitamins?!

Both our men's and women's prenatals contain water-soluble Vitamin B2 (Riboflavin). The "flavin" component, which is a bright yellow color, is responsible for the change in urine color. Yellow urine does not mean that you are not absorbing those nutrients! It is simply a normal, natural byproduct of this water-soluble B vitamin.
Customer reviews
No nausea and I feel great after taking this. It's a win after 3 pregnancies and multiple brands tried!
These are honestly the best vitamin. I am so happy I came across this from a Reddit recommendation. And I'll never go back to another vitamin (I take a prenatal even while not pregnant). It looks like a lot of people don't like the amount of vitamins per day, but I feel inclined to defend it! This prenatal has way more vitamins than the others. I love that it has 200mcg selenium, 4000iu of D and even 300mg magnesium! I was supplementing those with my past prenatals, but now I don't have to keep buying those to supplement! I've had no stomach issues, but always take right after a meal! Thanks for creating the ultimate vitamin!
Fantastic!
I wish I had found these when I was still pregnant. I'm still nursing after 6 months and really felt depleted. I wanted to ensure that I am getting the most vitamins to have them transfer into my babies milk. They have been phenomenal! The only thing I will note is that the dosage was slightly off putting at first. I've decided to split it up throughout the day. I do 4 in the morning after breakfast and 4 in the evening after dinner.
I have noticed that the milk I pump after taking the vitamins takes on a greenish hue. That's not a big deal though. I'm very pleased. I feel better!
Hi Samantha, we are so glad you are doing well with FullWell and have found a way to take the full dose. The greenish hue can be due to the flavins in the riboflavin and it is both normal when taking a prenatal multivitamin with riboflavin, and harmless. Thank you for sharing and being part of the FullWell community!
Happily surprised
This prenatal supplement came highly recommended by my midwife. I still wasn't sure at first because a day's dose is eight capsules, and I have never been good at swallowing pills. So far I've done fine with the swallowing! I think that the hint of lemon taste has helped me get passed the mental block that I've always hit in the past.
Great!
I've only been taking these for a few weeks, but so far so good! They make me a little nauseous if I take them before eating so I definitely recommend taking them with or after a meal/snack. I don't mind the dose, I just do 4 with lunch and 4 with dinner.