Regular price
Sale price
$79.00
Unit price
per
All of your vitamin, mineral, and omega-3 essential fatty acid needs are fully covered with our expert-formulated, OGBYN-recommended prenatal + fish oil bundle.*
1 bundle shipped every month
Fast shipping | 2-4 business days
Transit times reflect continental US shipping. Canadian shipping ranges from 3-9 business days. Carrier delays due to seasonal peaks or weather conditions may occur.
Highlights / Why You'll Love It:
RD-formulated, MD & OBGYN recommended
Full third-party testing transparency
Non-GMO · GMP Certified
Quality sourcing, Friend of the Sea Certified
Easy to tolerate
Consistent doses of bioavailable nutrients
FSA / HSA eligible
Details

FullWell's Women's Prenatal bundle delivers optimal, evidence-based forms and doses of nutrients in potent yet easy-to-tolerate individual formulas specifically designed for women's preconception, pregnancy, and postpartum needs. Our women's prenatal multivitamin contains fertility non-negotiables like bioavailable folate, vitamin B12, and chelated minerals plus essential pregnancy nutrients that other prenatals skimp on like choline, calcium, and magnesium, making it optimal to continue into pregnancy through postpartum. When combined with FullWell's Fish Oil + DHA, all of your nutritional bases are covered.
Testing

FullWell exceeds current prenatal standards by using 3rd party, independent testing for harmful contaminants - including heavy metals - on every single lot we produce. To see testing results for your lot, email cs@fullwellfertility.com.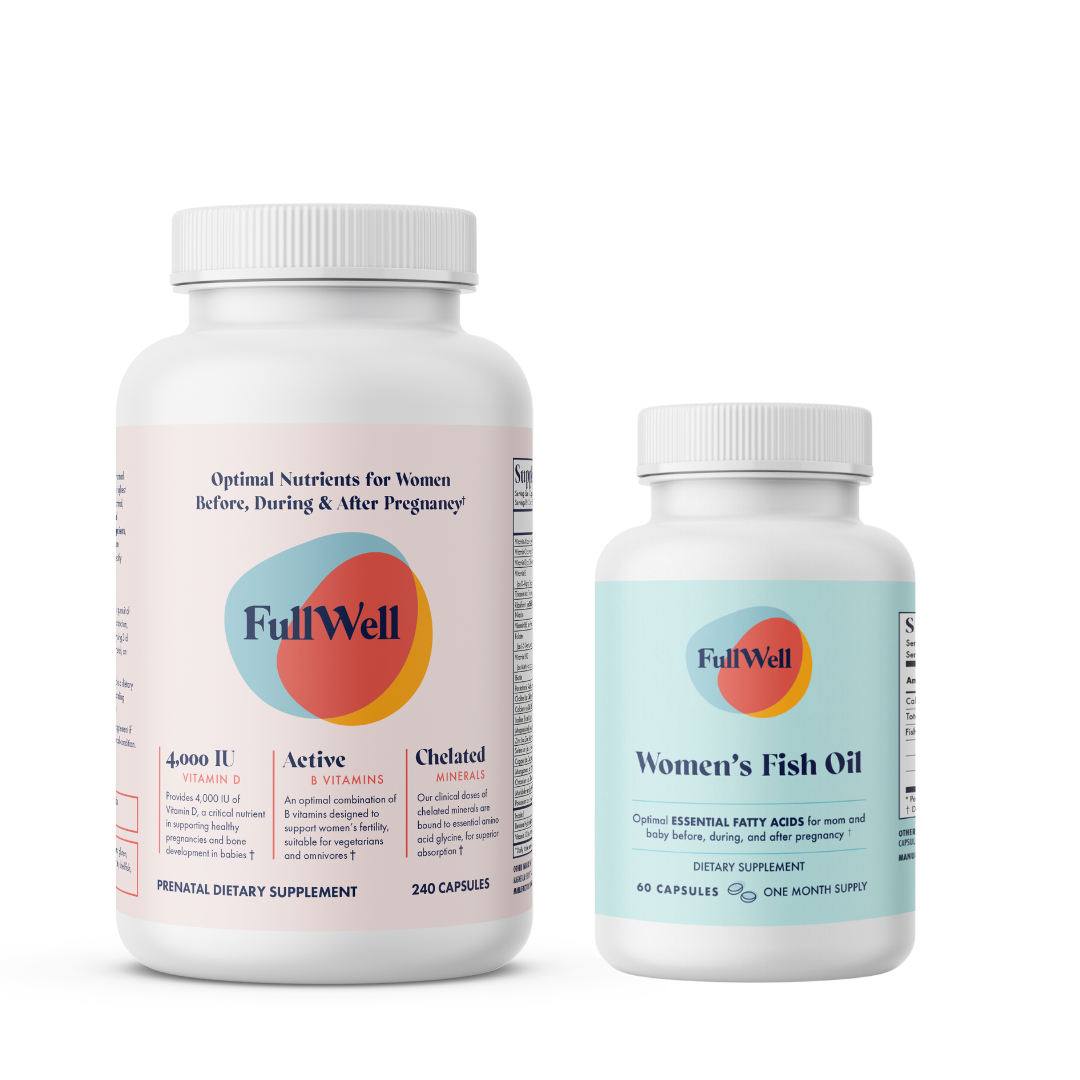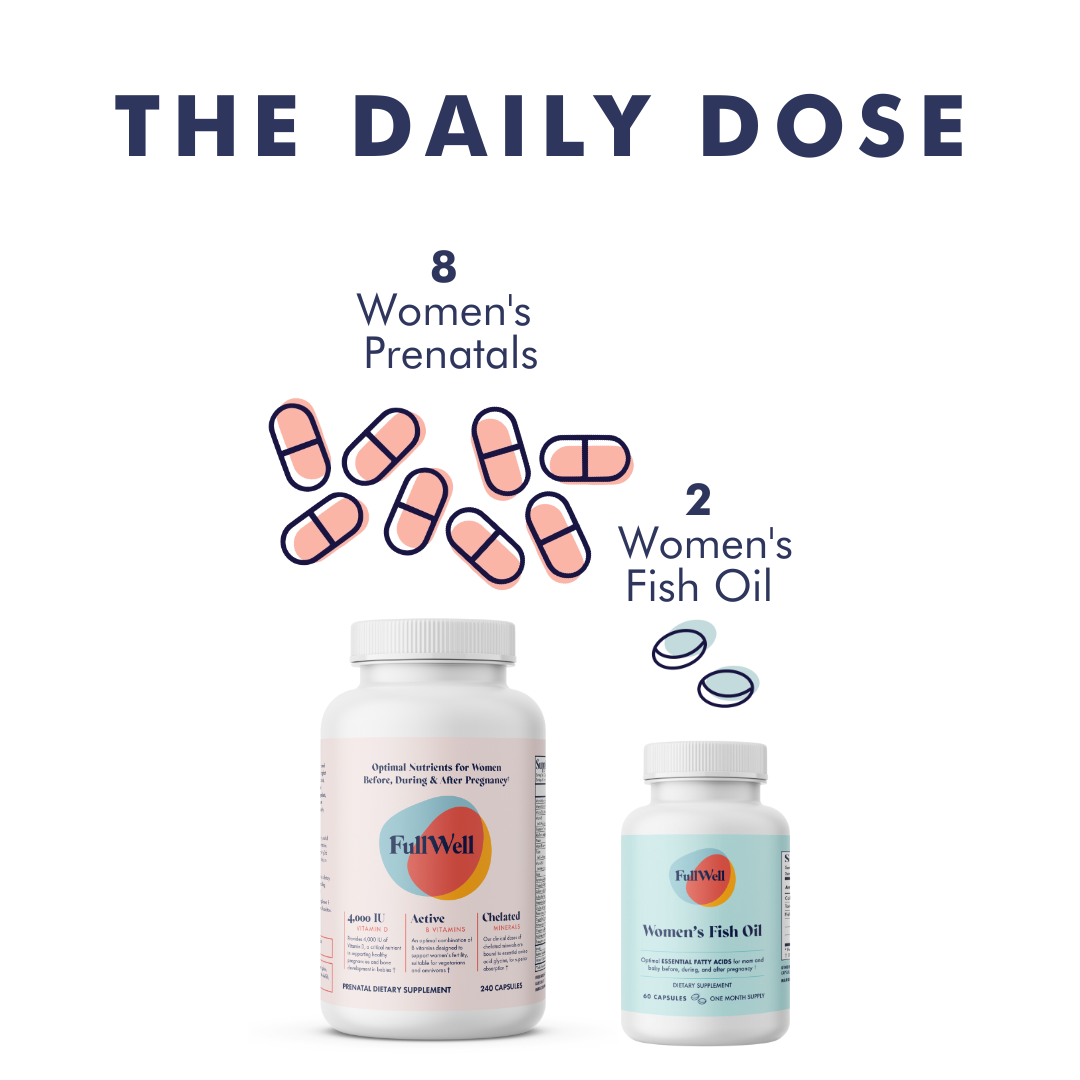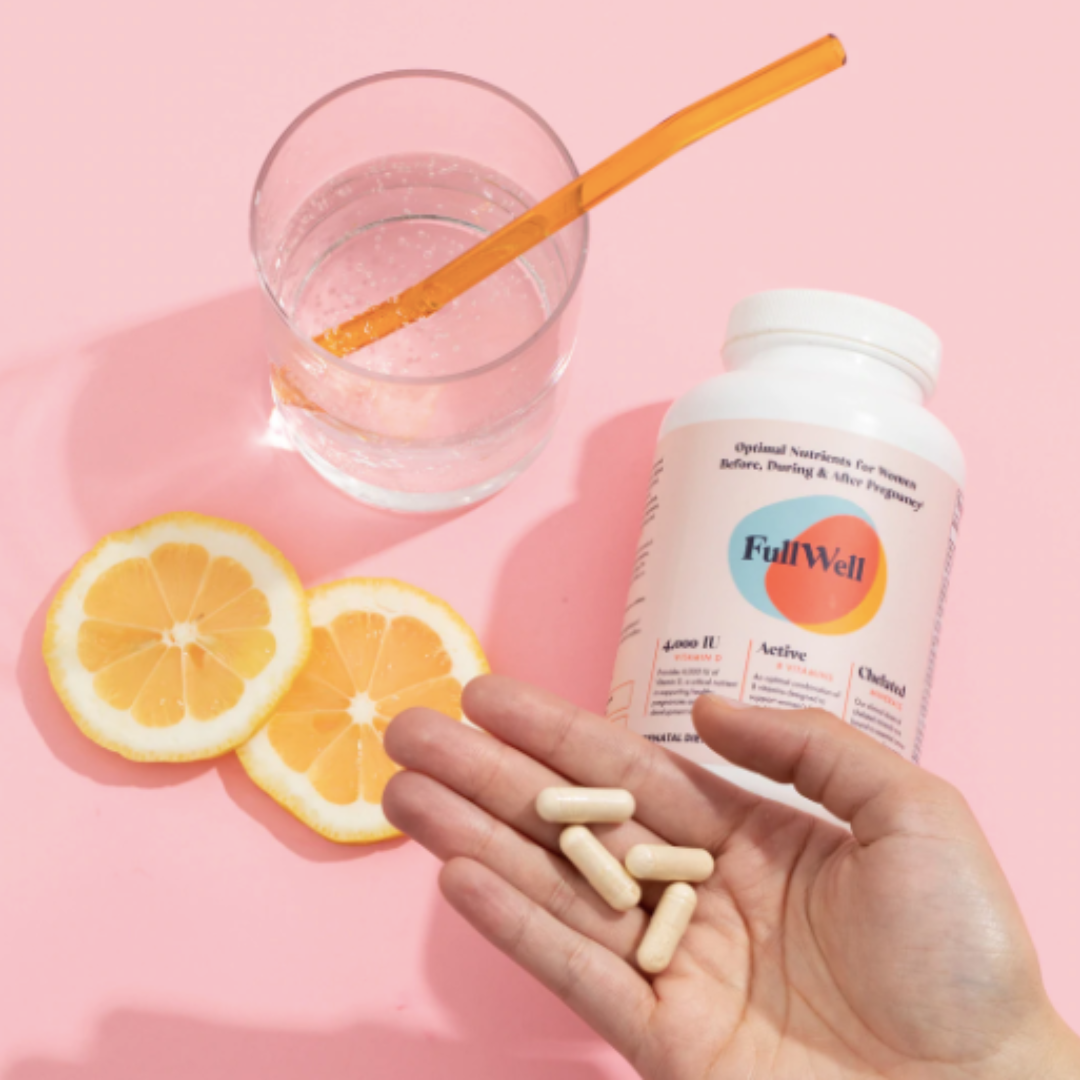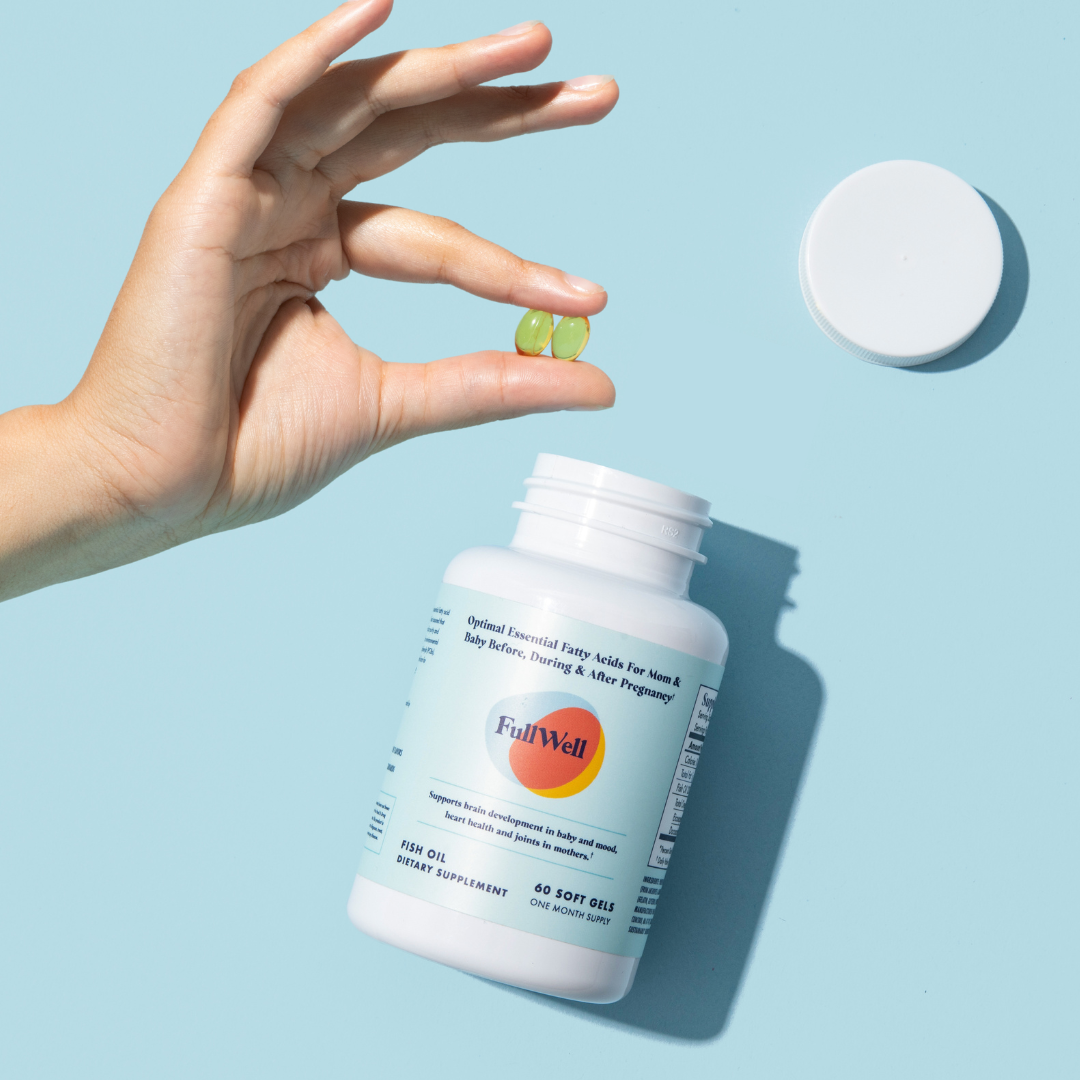 Taking the Supplements in your Prenatal Bundle

ALL AT ONCE
If you can manage all 8 prenatal capsules and both softgels at once, make it easy on yourself and take it all at the same time.
DIVIDE YOUR DOSE
4 prenatals at breakfast + 4 prenatals at lunch with your fish oil anywhere in the equation!

MIX IT UP
Break open your prenatal capsules and mix them into your favorite cool beverage. Use that beverage to take your fish oil capsules as recommended!
Ingredients at a glance
Eicosapentaenoic Acid (EPA)
Supports optimal immunity*
Helps DHA pass through the placenta to baby*
Ensures a healthy birth weight*
Docosahexaenoic Acid (DHA)
Supports baby's brain and early vision development*
Support baby's nervous system development*
Supports mama's mood during the postpartum period*
Folate
Supports normal neural tube formation*
Supports baby's heart, growth, and more*
Choline
Supports normal neural tube formation*
Aids placental function*
Assists brain development*
Vitamin D
Supports growth and skeletal development*
Promotes healthy blood pressure levels*
Fortifies baby's immune system*
Vitamin K2
Works synergistically with vitamin D & calcium*
Supports baby's skeletal development*
Maintains mom's dental health*
Magnesium
Supports sleep*
Supports mood*
May help ease nausea*
Calcium
Supports the normal formation baby's nervous & circulatory systems*
Supports musculoskeletal system development*
Iodine
Required for normal thyroid function*
Protects endocrine health*
Supports breastmilk production*
Vitamin B12
Promotes healthy, full-term pregnancy*
Supports neural tube formation*
Supports baby's long-term motor development*
Biotin
Supports metabolism of fatty acids, glucose, and amino acids*
Helps with gene regulation and cell signaling*
Chromium
Helps maintain normal glucose levels*
Supports carbohydrate, lipid, and protein metabolism*
Copper
Helps form baby's heart, red blood cells, and blood vessels*
Supports formation of skeletal and nervous systems*
Magnesium Stearate
Improves consistency of capsule quality
Delays breakdown and absorption of capsules
Manganese
Helps develop baby's bones and cartilage*
Metabolizes carbohydrates, amino acids, and cholesterol*
Supports healthy blood pressure levels*
Molybdenum
Vital for healthy liver detoxification*
Enzymatic cofactor involved in many types of metabolism within the body*
Niacin
Essential for baby's brain development*
Nurtures the nervous system*
Supports healthy mucous membranes*
Pantothenic Acid
Aids hormone and cholesterol production*
Necessary for chemical reactions within cells*
Helps metabolize carbohydrates, fats, and proteins*
Potassium
Helps maintain balance of fluids and electrolytes*
Helps regulate muscle contractions and nerve signals*
Riboflavin
Promotes good vision and healthy skin*
Supports growth of baby's bones, muscles, and nerves*
Supports healthy blood pressure*
Selenium
A powerful antioxidant that fights oxidative stress*
Plays a key role in thyroid hormone synthesis and function*
Thiamin
Helps convert carbohydrates to energy*
Supports nervous system*
Needed for normal muscle function*
Vitamin A
Develops healthy eyes and vision*
Supports immune responses in baby and mom*
Stimulates healthy thyroid function*
Vitamin B6
Supports mood*
Enhances sleep*
Reduces nausea*
Vitamin C
Antioxidant that protects against free radicals*
Plays a huge role in immunity and inflammation*
Vitamin E
Powerful antioxidant*
Supports lung development and immune function in baby*
Increases circulation and mitochondrial health in mom*
Zinc
Key to healthy immune function*
Supports healthy, full-term birth*
Keeps hormones regulated*
Myoinositol
Makes insulin more effective*
Supports egg quality*
Betaine HCl
Supports digestion*
More efficient absorption of other critical nutrients
Builds tolerance
Women's Prenatal and Fish Oil Bundle FAQs
Why is the serving size for the prenatal 8 capsules?!

Our women's prenatal contains more choline, magnesium, and calcium than other multivitamins. These three critical nutrients are BIG but necessary in the quantities we use for healthy day-to-day function and fertility, as well as pregnancy and breastfeeding.
Why are the prenatal and fish oil two separate supplements?

We separate our fish oil from our prenatal because these formulas have different rates of oxidation. It would severely impact the quality of each to combine them, which is why you should be wary of supplements that claim to be "all in one" in this regard.
Why don't these prenatals contain iron?

Iron needs and tolerance vary significantly by individual in both men and women. We suggest you monitor your iron status with your healthcare practitioner and if you do need supplemental iron, take it separately in appropriate doses at their recommendation. This way, you don't risk having iron interfere with the absorption of other critical nutrients in your prenatal.
Why is my urine bright yellow after taking my vitamins?!

Both our men's and women's prenatals contain Vitamin B2 (Riboflavin). The "flavin" component, which is a bright yellow color, is responsible for the change in urine color. Yellow urine does not mean that you are not absorbing those nutrients! It is simply a normal, natural byproduct of this water-soluble B vitamin.
Customer reviews
Increased Energy Almost Instantly
I desperately searched for a new prenatal when my energy level was almost non-existent. With three boys at home, I needed something to help me regain my energy. By day 3, I was convinced! My energy is, dare I say, better than where I was before pregnancy. I also take the Iron Bump. My routine is one Iron Bump in the morning, four prenatal + one fish oil at lunch, and four prenatal + one fish oil at dinner. Another bonus: I've never taken a fish oil that I didn't experience some unpleasant burp after, until this one. I love it so much that I've raved about it to my nursing or pregnant friends. I only wish I had known about FullWell for my other pregnancies - the fourth time is a charm!
Love it so far
Just don't take before bed, the b vitamins will keep you up.
Lemon Essence VS non
I've been taking this pre-natal for 5 months after I miscarried and I just ordered the lemon essence because everyone raved about how it made the nasty vitamin flavor better and I think it made it 10x worse 😂 it's not a big deal because I always feel great after I take these but please, trust me..it goes from bad to worse with the lemon essence. Also, I'll touch on the 8 pill a day thing. I have huge issues taking pills and especially big ones like these but for some reason, when I split these up by 4 in the morning and 4 in the evening it makes it way easier. These prenatals are awesome and I highly recommend!!
Amazing supplements, wish the packaging was more sustainable!
I love this prenatal and fish oil and wouldn't use another company. My nutritionist recommended it to me and I started postpartum/while breastfeeding -- I wish I'd been on it throughout pregnancy as I really believe in the more robust formula given the nutrient needs during this time. I love the rigorous testing of every batch. I wish FullWell would switch to more sustainable packaging -- something like Seed where you can use a reusable glass jar and get your monthly subscription in a compostable packet -- it's so much plastic!!
Hi Liz, we hear you on the sustainability piece! Unfortunately, the paper/compostable packaging, even when temporarily used before you transfer to a resuable container, does not adequately protect supplements from humidity and microbial contamination. Safety and quality is our first priority, sustainability is close second so give that there is not a safer option than what we are currently using, we've partnered with 4ocean to remove 10x more plastic from the ocean than we use. We are constantly looking for innovations in packaging that will allow us to get out of plastic and still maintain the safety and quality of our product. As soon as there is a solution, we will be first in line!
Goes down easy!
I'm excited that these vitamins not only have a quality dose of every vitamin that matters, as well as methylfolate, but they go down easy! Personally I don't mind the number of pills. I've also taken other fish oil before that didn't sit well with me, but these do not bother me at all! Very important for me, as I do not eat seafood. I would highly recommend these prenatal vitamins to anyone.