Regular price
Sale price
$79.00
Unit price
per
Boost your fertility and overall health with our potent multivitamin and premium fish oil formulated to support men's reproductive health and well-being.
1 bottle shipped every month
Fast shipping | 2-4 business days
Transit times reflect continental US shipping. Canadian shipping ranges from 3-9 business days. Carrier delays due to seasonal peaks or weather conditions may occur.
Highlights / Why You'll Love It:
RD-formulated, MD recommended
FSA / HSA eligible
Superior quality and sustainable sourcing (Friend of the Sea Certified Fish Oil)
Third-party tested
Details

Elevate your journey to peak fertility and overall well-being with our Men's Daily Essentials Bundle, combining the power of two exceptional supplements. Our Men's Multivitamin delivers essential nutrients and antioxidants for healthy sperm, reproductive hormones, and overall health, while our expert-formulated Men's Fish Oil supports sperm and semen parameters while offering benefits for your brain, immune system, and muscles.* Whether you're planning to conceive, undergoing fertility treatment, or prioritizing long-term wellness, our Men's Daily Essentials bundle has you covered.
Testing

We maintain consistent, rigorous testing standards across all our products to ensure each batch achieves the pinnacle of quality and purity. Each lot undergoes independent, third-party testing to check for any harmful contaminants, including mercury and other heavy metals. Furthermore, our Men's Fish Oil consistently attains one of the industry's lowest levels of oxidation. If you'd like to review individual testing results, please visit our Knowledge Well or feel free to reach out to us directly at cs@fullwellfertility.com.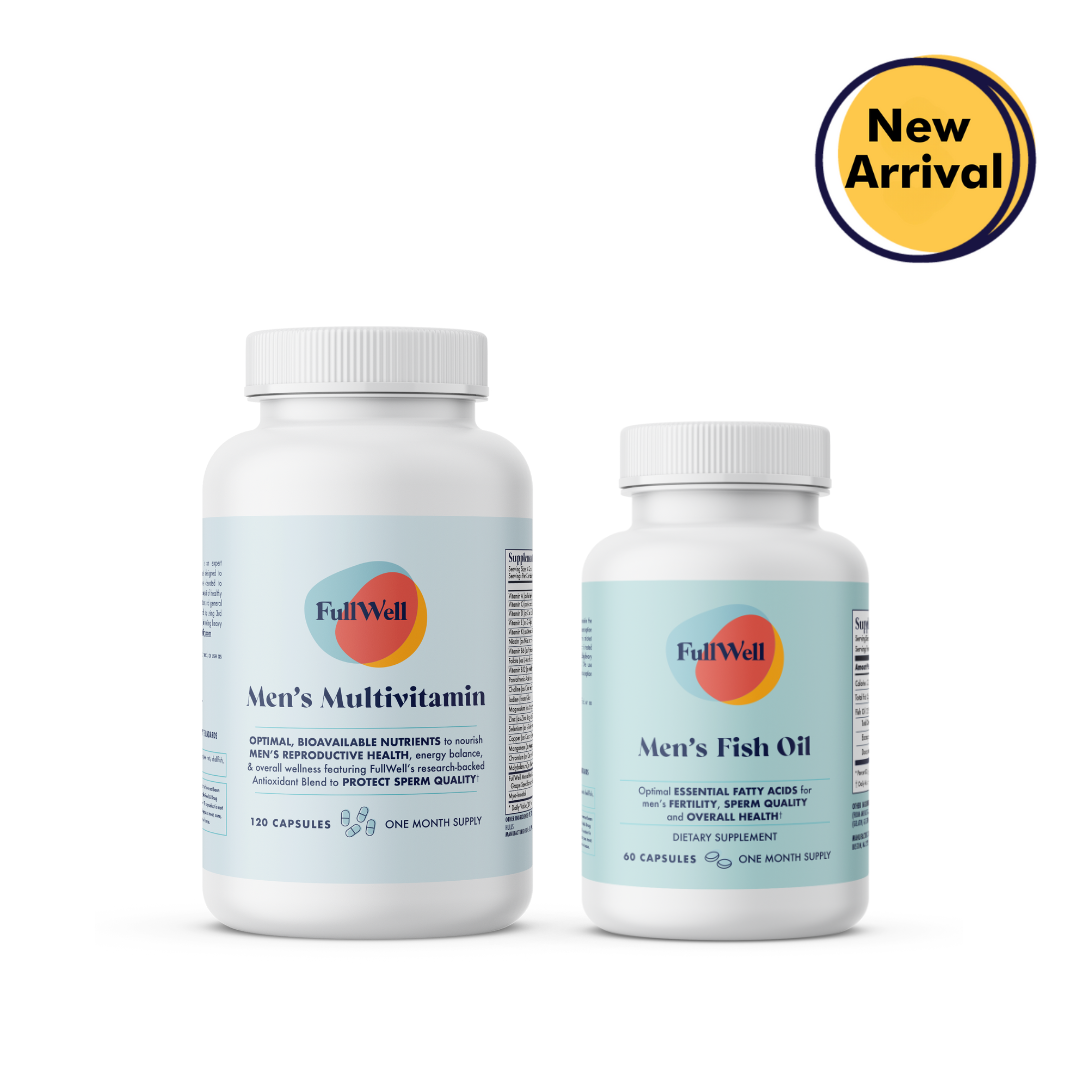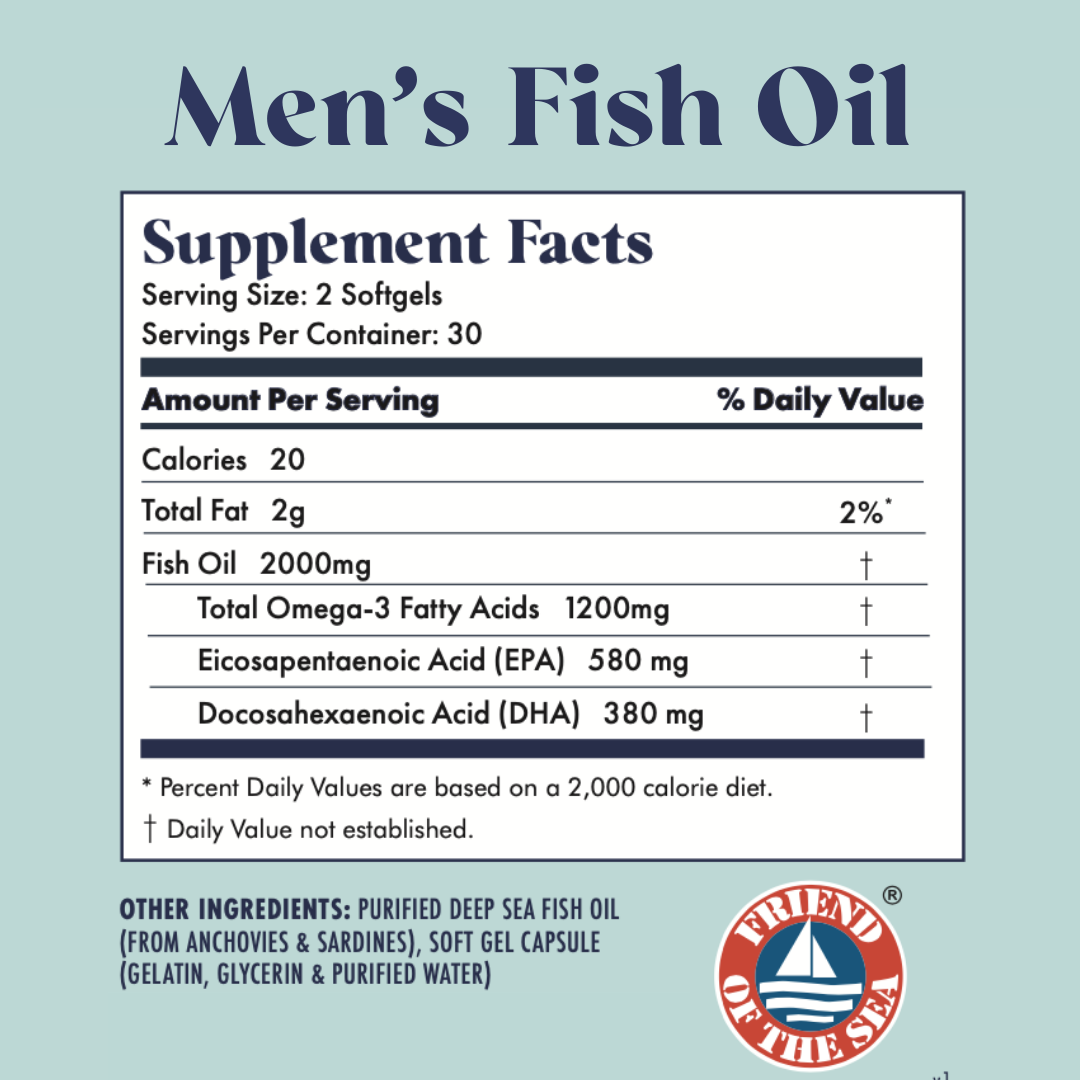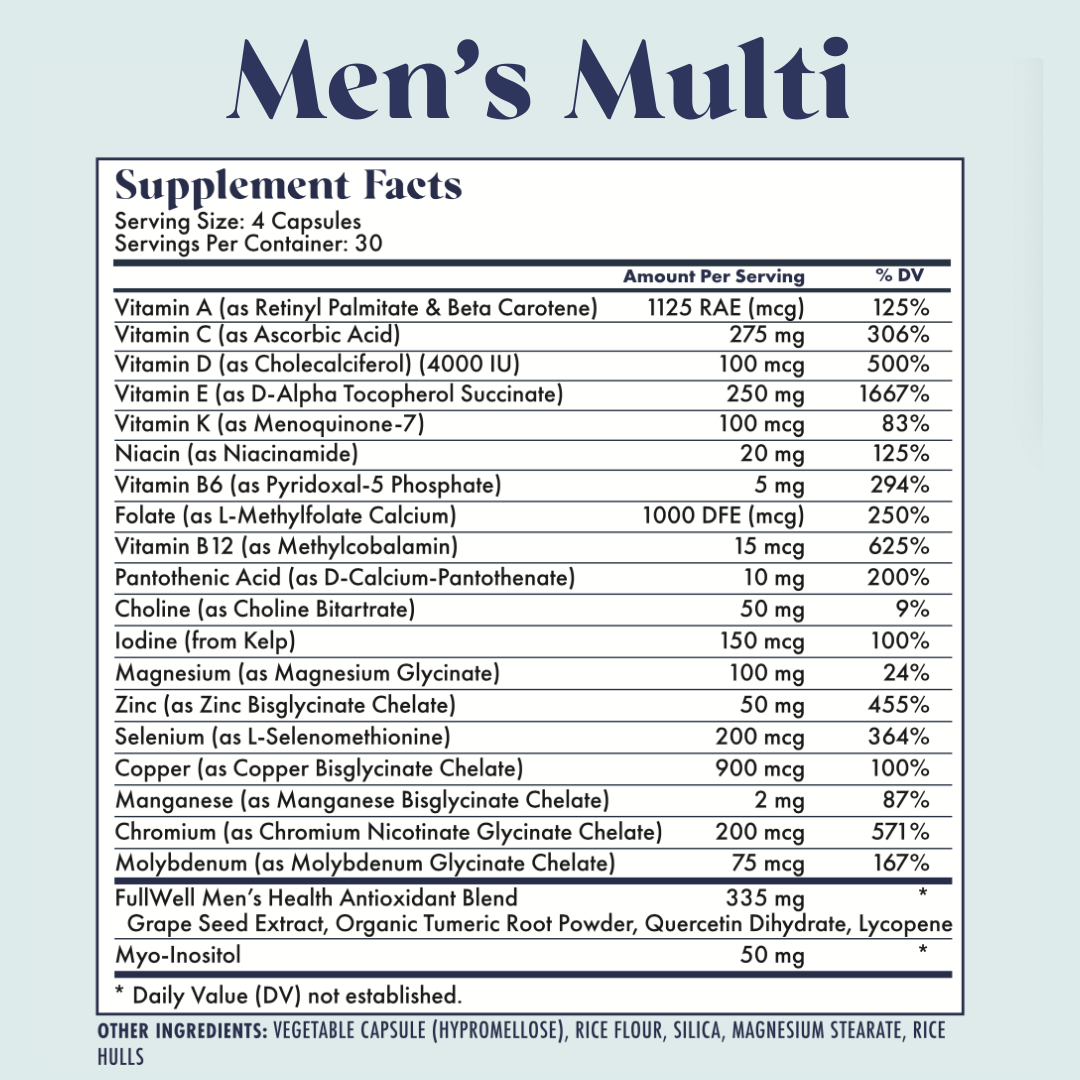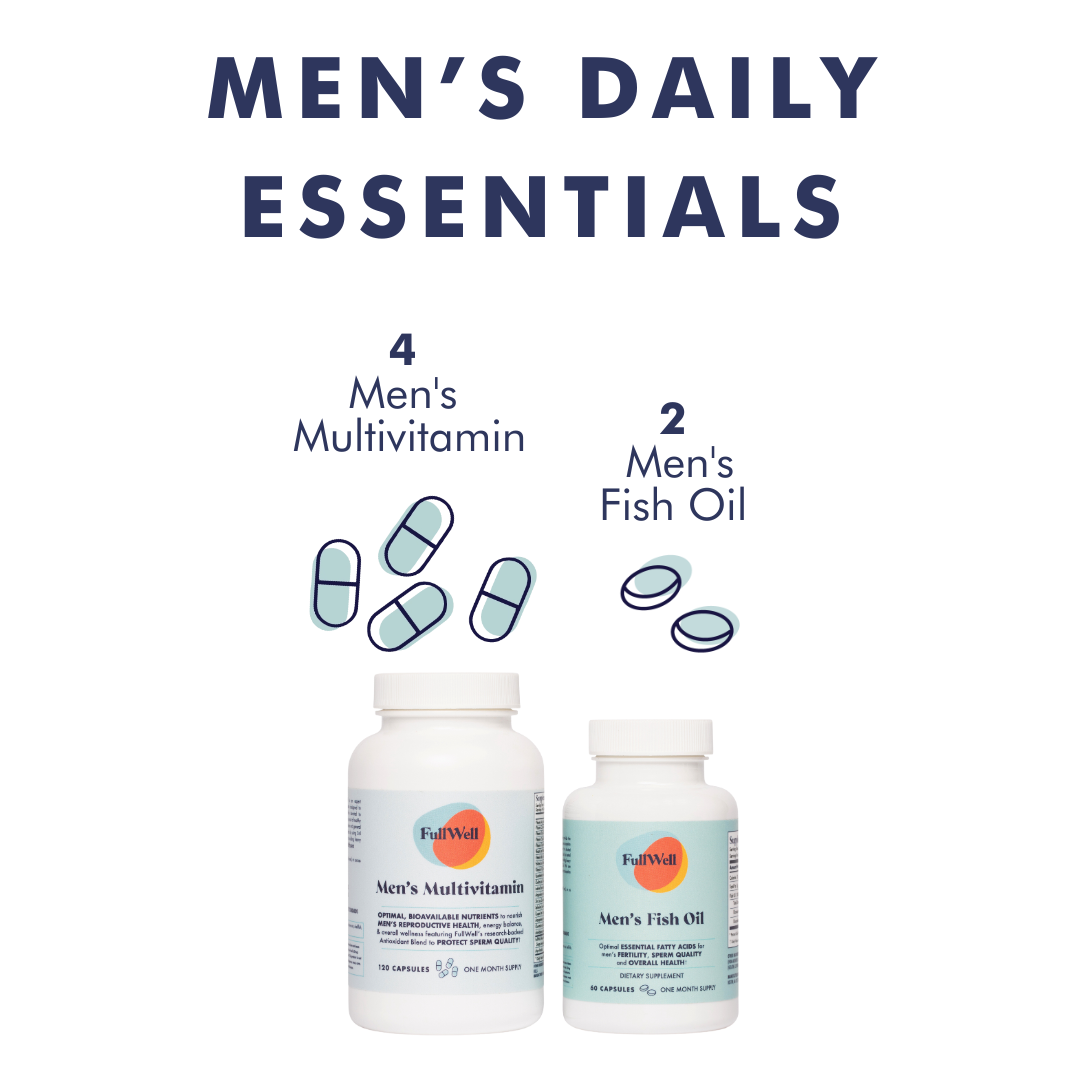 Taking the Supplements in your Daily Essential Bundle

ALL AT ONCE
If the full dose all at once is no problem for you, go for it!

DIVIDE YOUR DOSE
1/2 of the dose at breakfast + 1/2 of the dose at lunch
Ingredients at a glance
EPA & DHA
Supports healthy sperm parameters like count, concentration, and motility*
Helps maintain DNA integrity in sperm*
Supports antioxidants in the semen*
Selenium
A powerful antioxidant that protects agains oxidative stress*
Plays a key role in thyroid hormone synthesis and function*
Works with vitamins A, C, and E to build free radical defenses*
Zinc
Key to healthy immune function*
Supports optimal testosterone levels and overall hormone balance
Supports sperm DNA integrity and motility*
Men's Daily Essentials FAQs
WHEN SHOULD I START TAKING THE MEN'S DAILY ESSENTIALS BUNDLE?

The good news is you can start anytime! This bundle is designed to support men's overall health and vitality.* However, if you have conception in mind and want to prepare your body and sperm, we recommend beginning at least 3-6 months before trying to conceive, freezing sperm, or undergoing fertility treatment. The average man produces 50-100 million sperm daily and it takes about 2-3 months for them to fully mature. During this crucial development period, nourishing these immature sperm with the right nutrients to bolster their defenses against free radicals and support their healthy growth is vital.
WHY SHOULD YOU CONSIDER TAKING FISH OIL FOR MALE FERTILITY?

Omega-3 fatty acids, like EPA and DHA, offer various positive benefits for sperm health. They can help sperm swim better by making them more flexible and fluid, which is crucial for reaching the egg.* Omega-3s also encourage good sperm shape, making it easier for them to fertilize an egg.* In some cases, they might even support healthy sperm count and the quality of semen in men with specific conditions.*
IS IT SAFE TO TAKE MEN'S FISH OIL AND MULTIVITAMIN TOGETHER?

Absolutely. There is no interaction or compromised absorption with our men's products. Due to stability concerns, we do not think essential fatty acids belong in a multivitamin, but there are no issues with taking them simultaneously.