Regular price
Sale price
$32.95
Unit price
per
Supercharge your egg & sperm quality with potent antioxidants & fertility-supporting adaptogen ashwagandha. Introducing Fertility Booster, expertly-formulated for BOTH you and your partner to improve and protect egg and sperm quality*
1 bottle shipped every month
Fast shipping | 2-4 business days
Transit times reflect continental US shipping. Canadian shipping ranges from 3-9 business days. Carrier delays due to seasonal peaks or weather conditions may occur.
Highlights / Why You'll Love It:
Free radical defenses in every cell*
Healthy response to assisted reproduction efforts*
Liver health and detoxification*
Optimal egg & sperm quality*
Healthy stress response*
Details

Fertility Booster contains a unique form of CoQ10 for enhanced absorption and up to THREE times greater bioavailability; ideal for those trying to conceive or looking to optimize and preserve fertility for later in life.*

Eggs and sperm take about 90 days to develop, so we designed our Fertility Booster for both sexes. Bundle it with our Women's Prenatal and Men's Multivitamin daily for optimal preconception health.

For best results, we recommend proactively taking for 3-6 months before you try to conceive, undergo fertility treatment, or freeze eggs or sperm.

Free of the following allergens: gluten, wheat, dairy, peanuts, tree nuts, shellfish, eggs, sesame, corn, and soy.
Testing

FullWell exceeds current prenatal standards by using third-party, independent testing for harmful contaminants - including heavy metals - on every single lot we produce. To see testing results for your lot, email cs@fullwellfertility.com.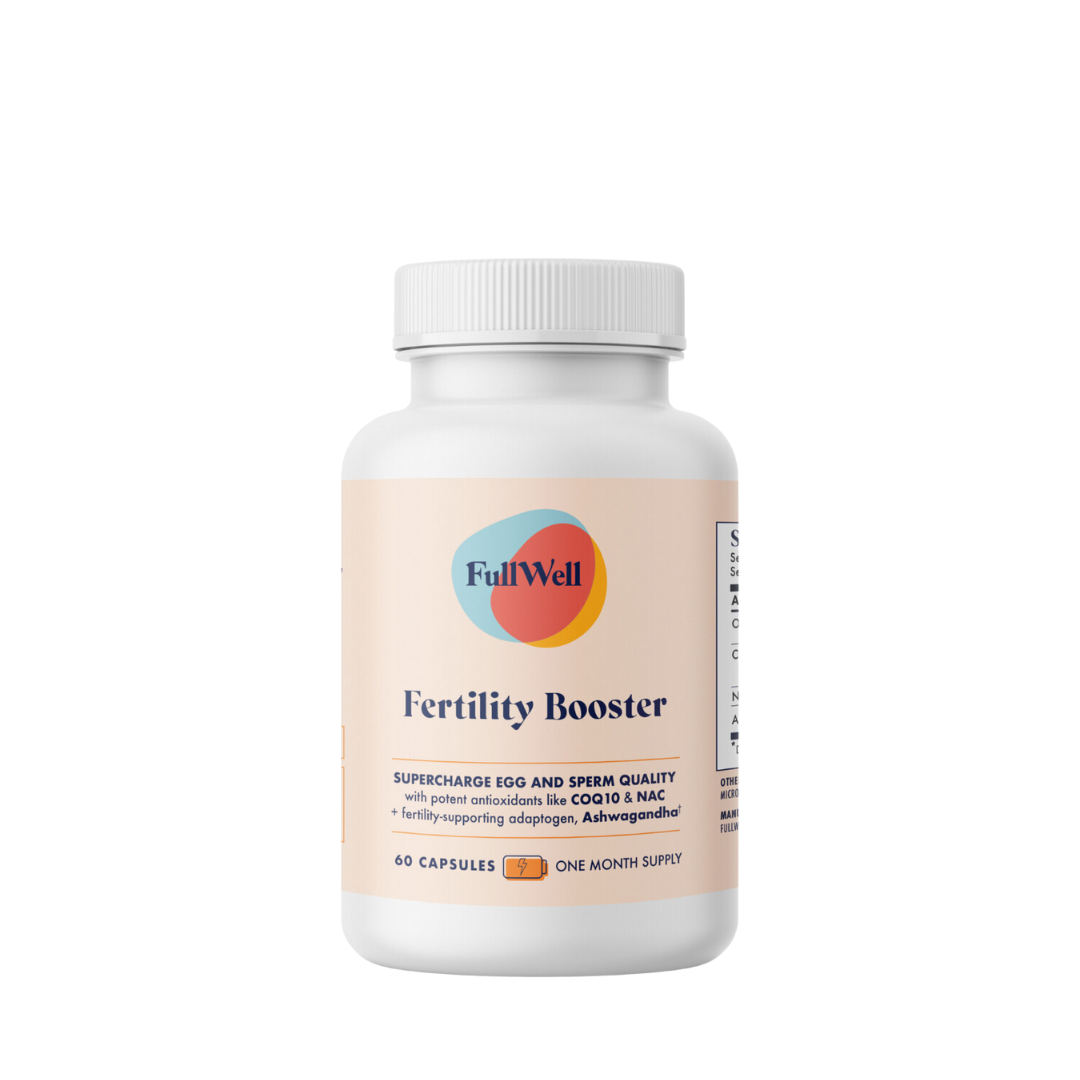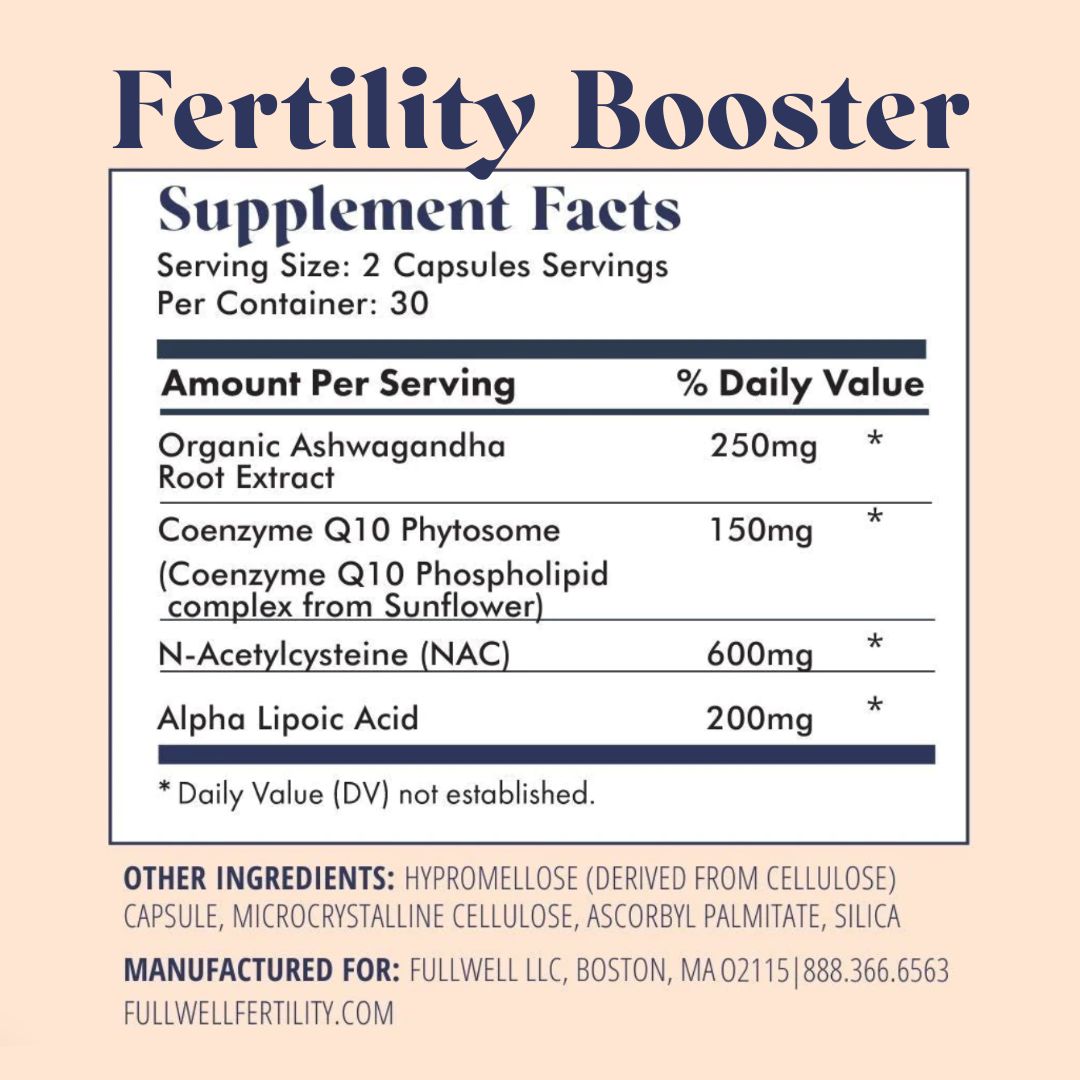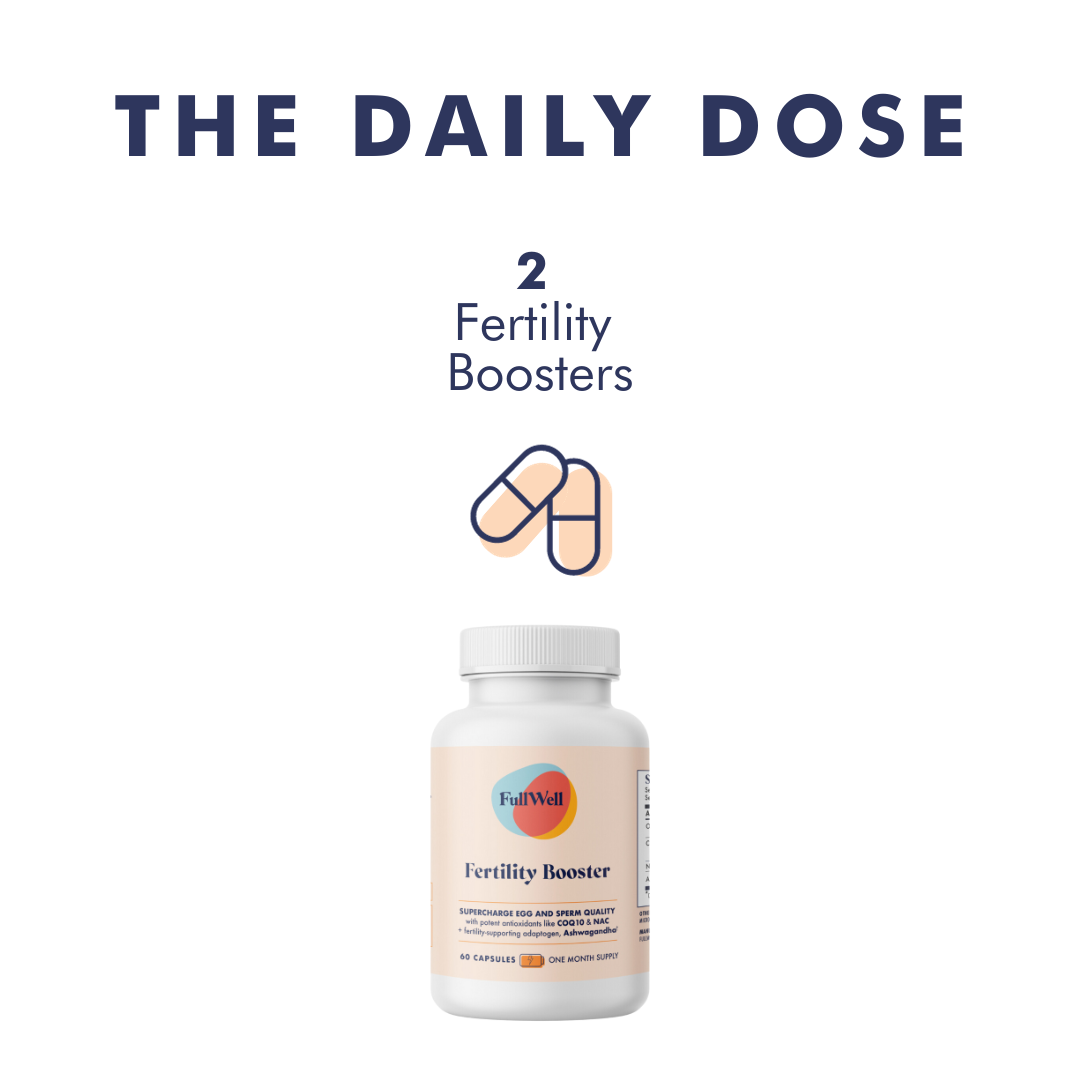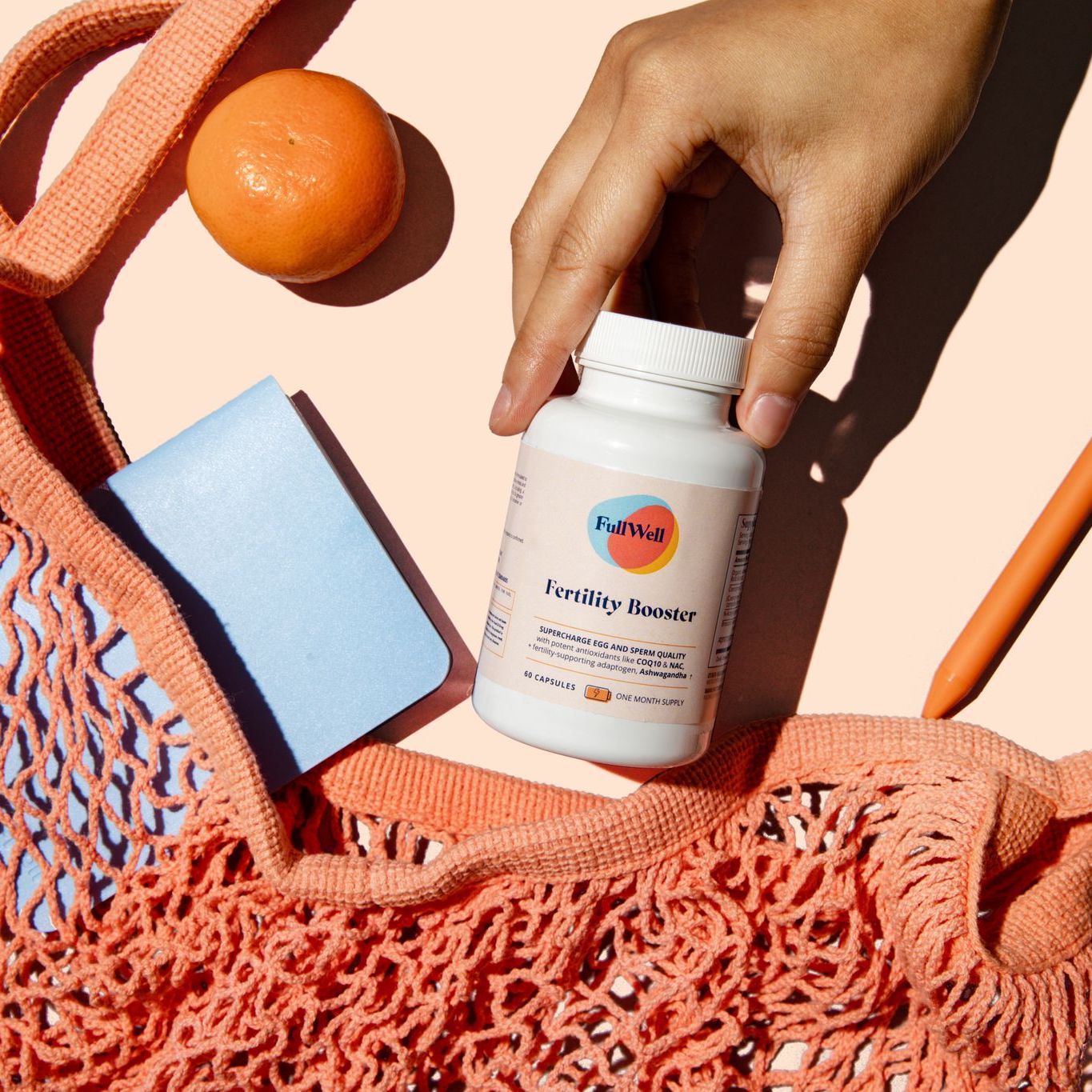 Taking your Fertility Booster

You're trying to conceive (or are planning to start a family soon)

You're undergoing fertility treatment.

You're seeking to improve reproductive cell quality before freezing yes eggs or sperm.

You're looking to protect their fertility for the future.
Ingredients at a glance
Alpha Lipoic Acid
Provides protective and restorative effects on sperm and eggs*
Promotes egg maturation and fertilization + embryo development*
Ashwagandha
Promotes calm and clarity*
Helps maintain normal cortisol levels*
Supports sexual function and healthy sperm parameters*
Coenzyme Q10 (CoQ10)
Boosts glutathione, the master antioxidant*
Enhances mitochondrial function and cellular energy production*
Supports a healthy response to assisted reproduction efforts*
N-Acetyl Cysteine (NAC)
Promotes follicle development in women and healthier sperm function in men*
Supports liver and kidney detoxification by aiding the clearance of heavy metals*
Helps maintain healthy insulin levels, which supports sexual and reproductive function*
Fertility Booster FAQs
Why do men need to take a Fertility Booster?!

The role of fertile, healthy sperm goes beyond just conception. Sperm quality; count, motility (movement), and morphology (shape and size) all contribute to overall healthy pregnancy and the health of the baby over the long term. Our Fertility Booster is designed to work alongside our respective multivitamins to support optimal sperm quality, hormone health, and overall male fertility. Several of the nutrients work together to support sperm parameters (quality, and structure), healthy free-radical defenses, hormone levels, and overall wellness, which means it is also an excellent supplement for men to continue taking well beyond conception.
When should I start taking Fertility Booster?

It's never too soon, but ideally, at least 3-6 months before trying to conceive, undergoing fertility treatment, or freezing eggs or sperm. Fertility is increasingly being recognized as a biomarker for overall health, so you can also take it over more extended periods to preserve your fertility for the future. If you are taking it in preparation for egg or sperm freezing, continue to take it until after your retrieval/collection. If you are actively trying for a family, continue taking it until you have a confirmed positive pregnancy test. Finally, if you want to preserve your fertility for the future, you can take it for the long run! We recommend working with your healthcare practitioner to evaluate your individual needs.
Who is this product for?

You're trying to conceive (or are planning to start a family soon). You're undergoing fertility treatment. You're seeking to improve reproductive cell quality before freezing your eggs or sperm. You're looking to preserve and enhance egg or sperm quality later in life.
Customer reviews
It worked!
After just a few months of adding the Fertility Booster for myself and my husband we finally got a positive pregnancy test! Will absolutely be recommending this product!