The Science Behind Our Men's Fish Oil
Formulated to support healthier sperm production and optimal male reproductive health*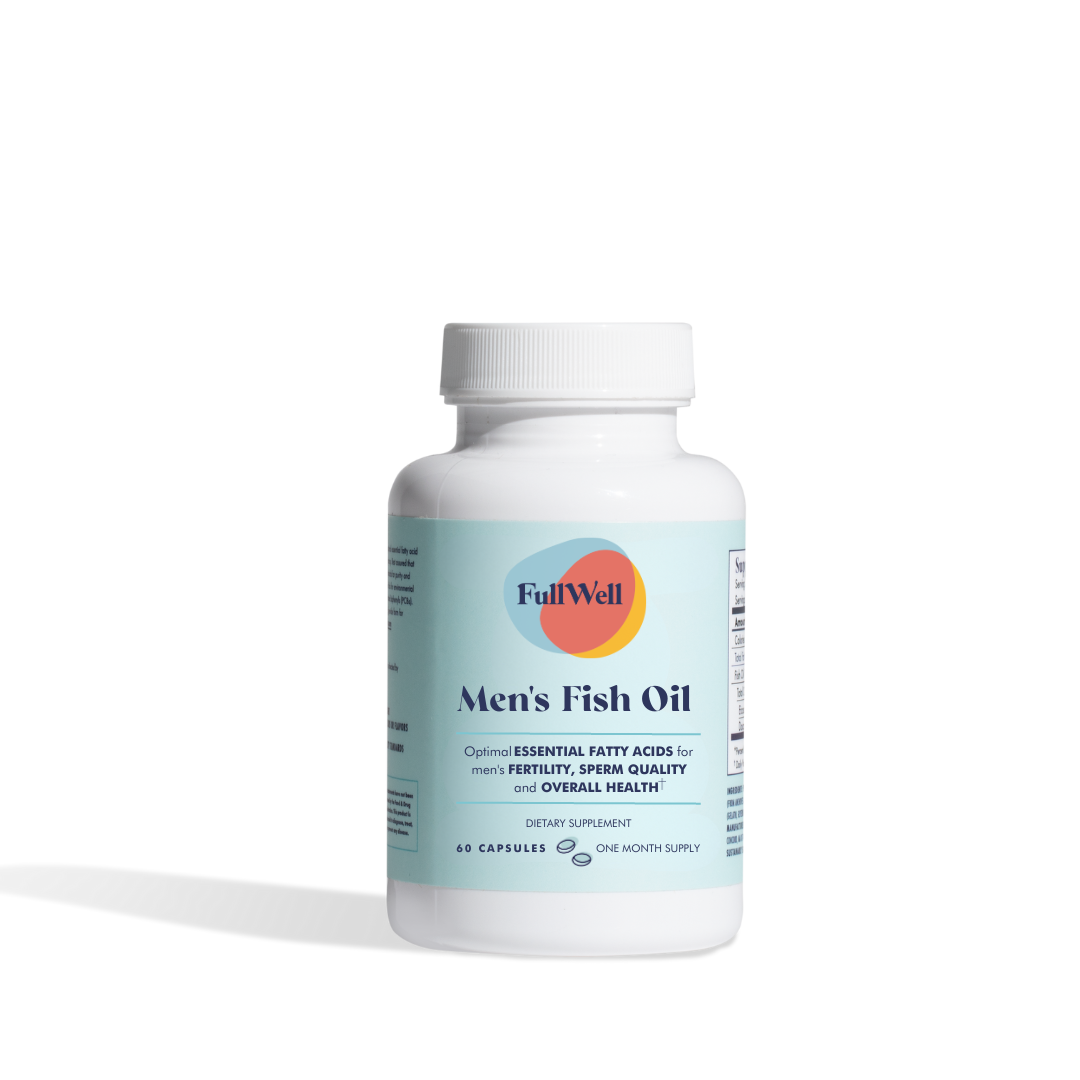 Unlock peak reproductive and overall health with our Men's Fish Oil – a powerhouse of essential omega-3 fatty acids, including docosahexaenoic acid (DHA) and eicosapentaenoic acid (EPA). Tailored for men, this unique formula boasts an ideal EPA to DHA ratio of approximately 2:1, providing a daily boost that supercharges sperm, shields the body's natural defense system, and safeguards DNA.*  With just two capsules daily, our Men's Fish Oil delivers a balanced blend from sustainably sourced, wild-caught fish in a natural form, guaranteeing optimal absorption and unmatched tolerance.
Supports Sperm Health and Reproductive Vitality
EPA and DHA are champions for optimal sperm performance, supporting their movement, shape, count, and quality.* Their antioxidant-like qualities also act as a protective shield, fortifying the body's natural defense system and enriching seminal fluid for optimal semen quality.*
Supports Men's Long-Term Health
Omega-3s have much more to offer than just reproductive health. They also support the brain, immune system, muscles, and overall performance, making our Men's Fish Oil an exceptional choice for overall well-being, offering valuable support for immediate and long-term health.*
"Our Men's Fish Oil prioritizes a higher omega-3 dosage than our Women's Fish Oil based on clinical evidence supporting its benefits for male fertility and overall health. Men benefit more from higher EPA levels to support sperm quality, while women, especially during pregnancy, require sufficient DHA for fetal development."
No Fishy Smells Here
Our Men's Fish Oil boasts some of the industry's lowest oxidation scores. Unlike other fish oils, ours maintains peak levels of EPA and DHA, avoiding the breakdown into less effective free radicals associated with undesirable odor and taste. We prioritize freshness as paramount for an effective fish oil supplement. Infused with a touch of lemon, our Men's Fish Oil ensures quality and a refreshing hint of citrus for an elevated experience.
All the Omega 3s Without the Mercury
Not only do we get our fish from sustainably sourced, wild-caught fish, but we third-party test each batch to ensure our Men's Fish Oil is below detectable levels for mercury, other heavy metals, dioxins, and polychlorinated biphenyls (PCBs). We pass with flying colors and have the results to prove it!
Don't see what you're looking for? Our dedicated clinical team is here to help out. Reach out to us directly at hello@fullwellfertility.com.
* The information on this website is provided for educational purposes only and should not be treated as medical advice. FullWell makes no guarantees regarding the information provided or how products may work for any individual. If you suffer from a health condition, you should consult your health care practitioner for medical advice before introducing any new products into your health care regimen. For more information, please read our
terms and conditions
.