Regular price
Sale price
$29.95
Unit price
per
Support optimal sperm health with our expert-formulated, sustainably sourced fish oil, boasting an optimal 2:1 omega-3 essential fatty acid ratio tailored to promote men's reproductive and overall health.
1 bottle shipped every month
Fast shipping | 2-4 business days
Transit times reflect continental US shipping. Canadian shipping ranges from 3-9 business days. Carrier delays due to seasonal peaks or weather conditions may occur.
Highlights / Why You'll Love It:
RD-formulated, MD recommended
Optimal 2:1 EPA to DHA ratio
Wild-caught and sustainably sourced fish
Friend of the Sea Certified
Third-party tested for heavy metals, dioxins, and polychlorinated biphenyls (PCBs)
FSA / HSA eligible
Details

Unlock the potential for healthier sperm production and optimal male reproductive health for you or your partner with our sustainably sourced and wild-caught Men's Fish Oil.* This dynamic duo of EPA and DHA helps supercharge your sperm by supporting their movement, shape, count, and overall quality.* Their antioxidant-like qualities also act as a shield for your body's natural defense system, safeguarding your DNA and enriching your seminal fluid for better semen quality.*

But the benefits don't stop there – omega-3s have much more to offer than just reproductive health. They also extend their support to your brain, immune system, and muscles, making our Men's Fish Oil an exceptional choice for overall well-being and providing valuable support for long-term fertility preservation.* For best results, we recommend proactively taking 3-6 months before trying to conceive, undergoing fertility treatment, protecting sperm, or simply incorporating it into your long-term wellness routine.

Free of the following allergens: gluten, wheat, dairy, peanuts, tree nuts, shellfish, eggs, sesame, corn, and soy.

Contains lemon for a hint of lemon freshness.
Testing

Our Men's Fish Oil is exclusively derived from wild-caught fish harvested off the coast of Peru by fisheries devoted to responsible practices. To preserve the delicate equilibrium of marine ecosystems, we embrace diversity in our fish sources as part of our ongoing sustainability efforts. Though we recognize that adaptability is essential to safeguarding the environment for future generations, rest assured, our stringent testing standards remain constant across all our fish sources, guaranteeing that each batch of our fish oil attains the highest levels of quality and purity and that contaminants, including mercury and other heavy metals, and total oxidation are below the strictest standards in the world. If you'd like to review individual testing results, please visit our Knowledge Well or feel free to reach out to us directly at cs@fullwellfertility.com.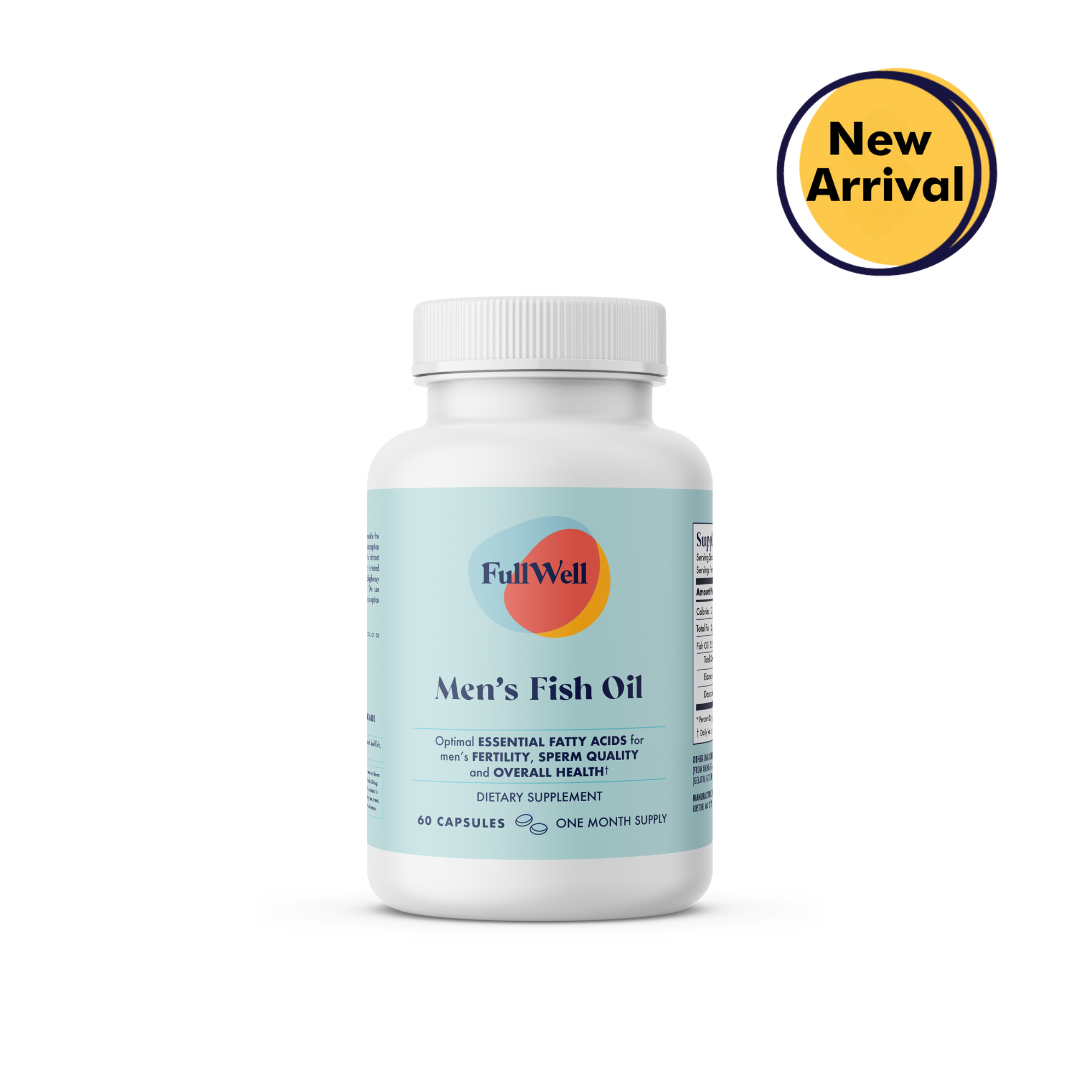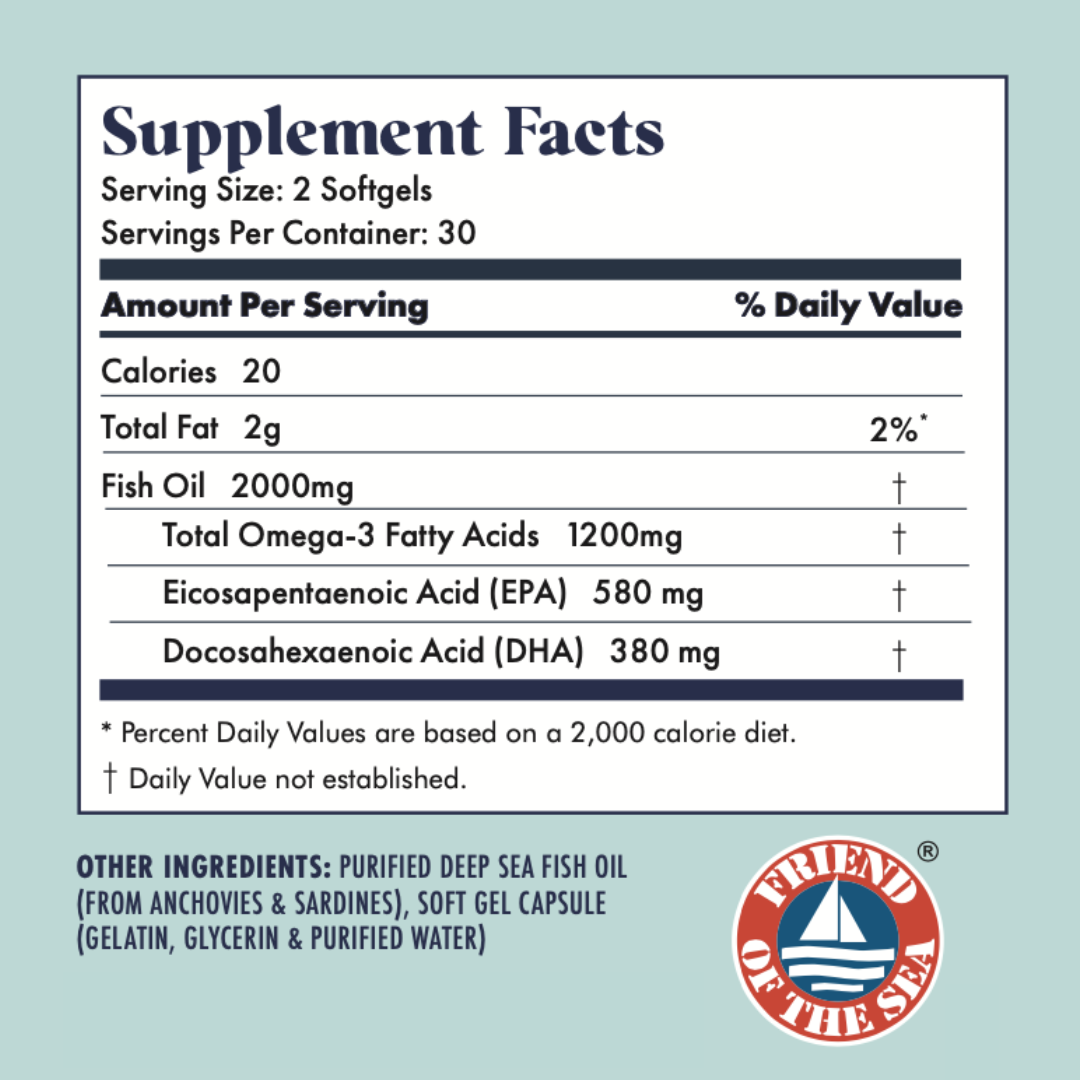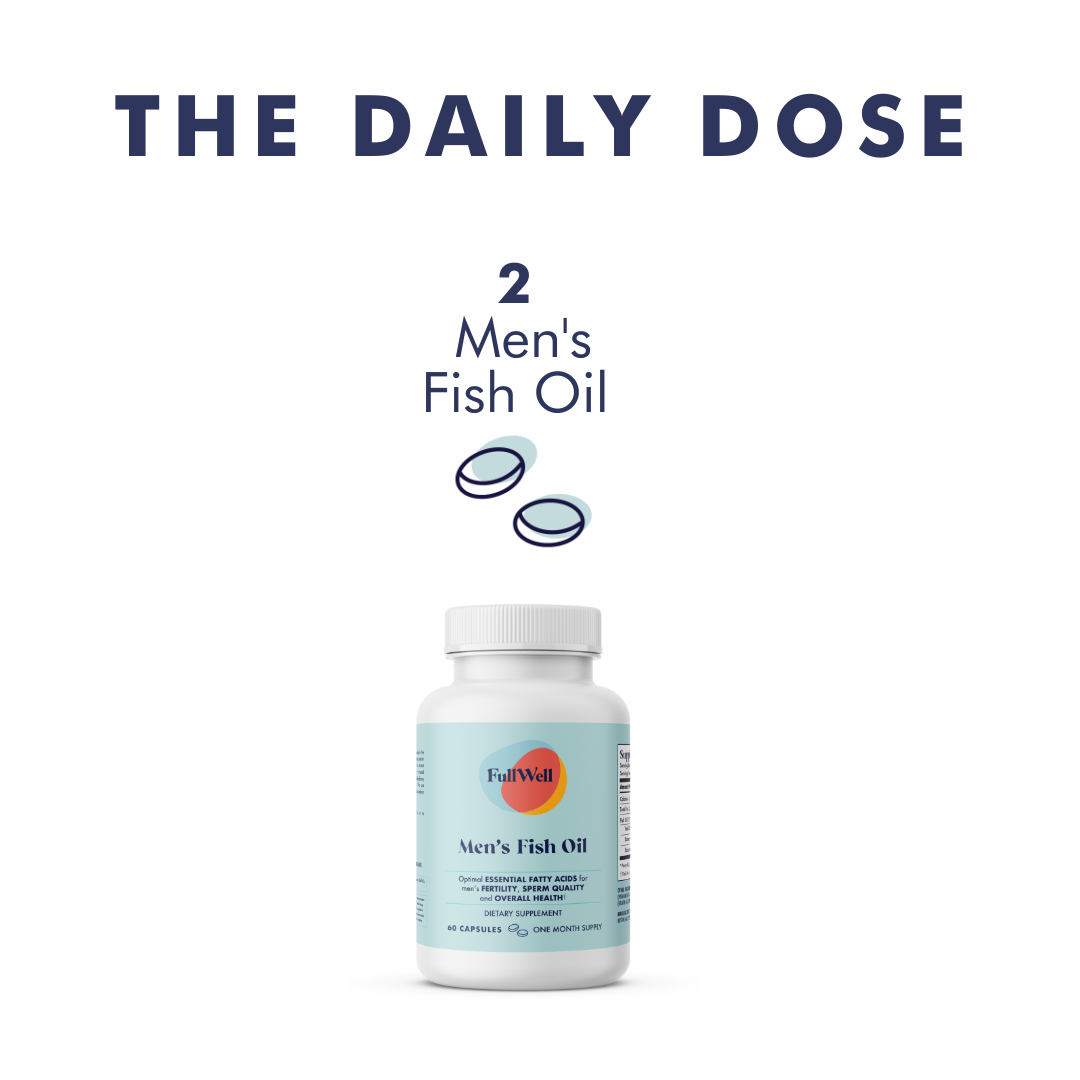 How to take your Fish Oil

ALL AT ONCE
Feel free to take your fish oil alongside other FullWell Products. They are separated simply because they oxidize at different rates, not because one hinders the absorption of the other.
Ingredients at a glance
EPA & DHA
Supports healthy sperm parameters like count, concentration, and motility*
Helps maintain DNA integrity in sperm*
Supports antioxidants in the semen*
Men's Fish Oil FAQs
WHAT MAKES FISH OIL A MUST-HAVE FOR MALE FERTILITY?

Omega-3 fatty acids, like EPA and DHA, offer various positive benefits for sperm health. They can help sperm swim better by making them more flexible and fluid, which is crucial for reaching the egg.* Omega-3s also encourage good sperm shape, making it easier for them to fertilize an egg.* They also may support healthy sperm count and the quality of semen in men with specific conditions.*
IS IT SAFE TO TAKE WITH OTHER FULLWELL PRODUCTS?

Absolutely. There is no interaction or compromised absorption with our men's products. Due to stability and quality concerns, we do not think essential fatty acids belong in a multivitamin, but there are no issues with taking them simultaneously.
Does it taste... fishy?!

Nope! Our easy-to-swallow gel capsules encompass the fish oil to make it odorless and flavorless going down. You may notice a slight aftertaste if you happen to burp after taking them, however, this is totally normal (and no, the capsules are not inherently burp-inducing :)