Regular price
Sale price
$29.95
Unit price
per
Your omega-3 essential fatty acid needs are fully covered with our expert-formulated and sustainably sourced fish oil, certified by Friend of the Sea.
1 bottle shipped every month
Fast shipping | 2-4 business days
Transit times reflect continental US shipping. Canadian shipping ranges from 3-9 business days. Carrier delays due to seasonal peaks or weather conditions may occur.
Highlights / Why You'll Love It:
RD-formulated, OBGYN recommended
400mg of DHA and 200mg of EPA per serving
Sustainably sourced & Friend of the Sea Certified

Third-party tested for heavy metals, dioxins, and polychlorinated biphenyls (PCBs)

FSA / HSA eligible
Details

FullWell Fish Oil provides optimal levels of essential fatty acids for mom & baby before, during, and after pregnancy. Made from anchovies and sardines, our Friend of the Sea certification ensures that our fish oil is ethically sourced. Just 2 small, easy-to-swallow gelcaps provide 600mg of non-GMO EPA + DHA in a natural form for superior absorption and tolerance. Rest assured that our fish oil surpasses the strictest international standards for purity and freshness. Every batch is third-party tested for contaminants including heavy metals, dioxins, and polychlorinated biphenyls (PCBs).
Testing

FullWell exceeds current omega-3 supplement standards by using third-party, independent testing for harmful contaminants - including mercury and other heavy metals - on every single lot we produce. To see testing results for your lot, email cs@fullwellfertility.com.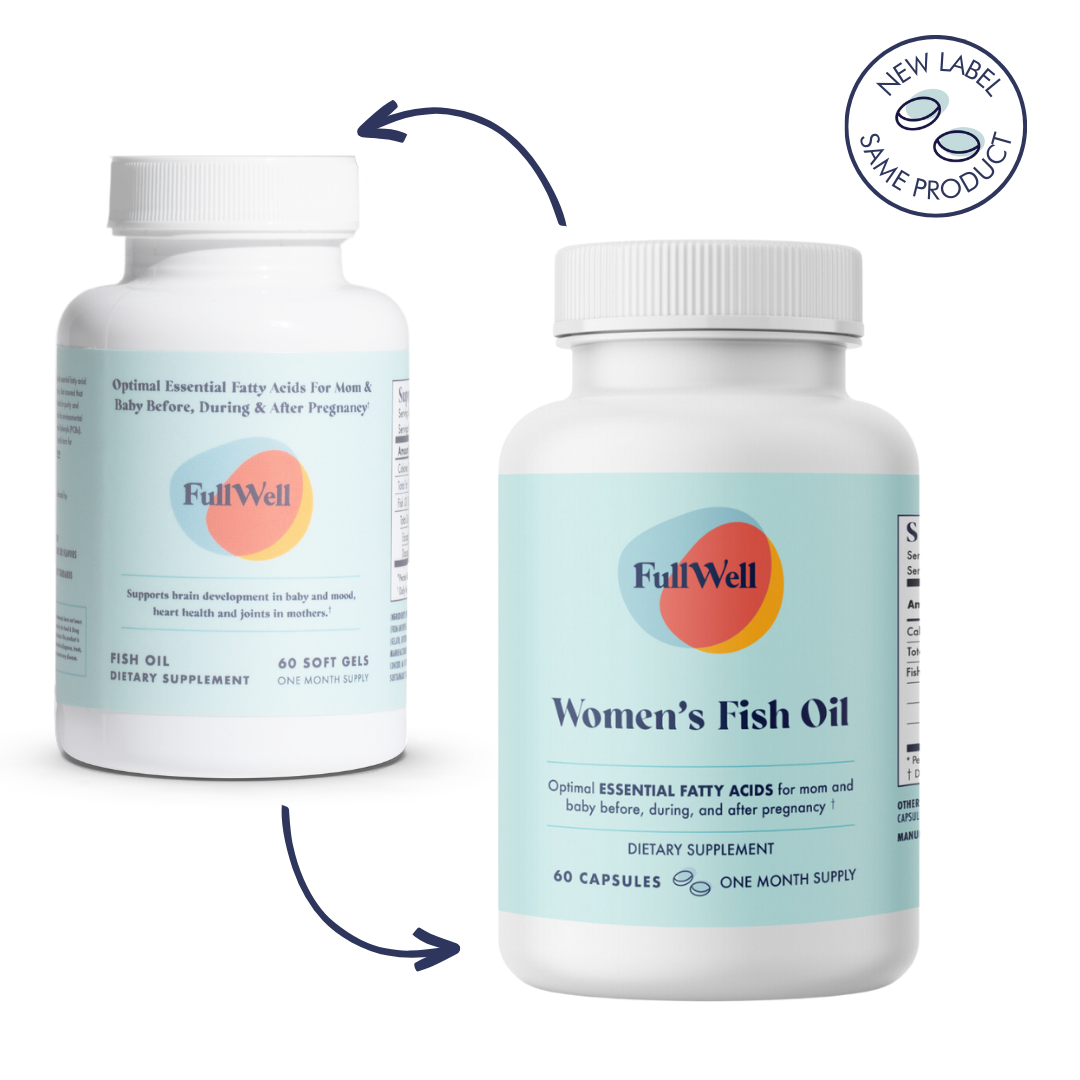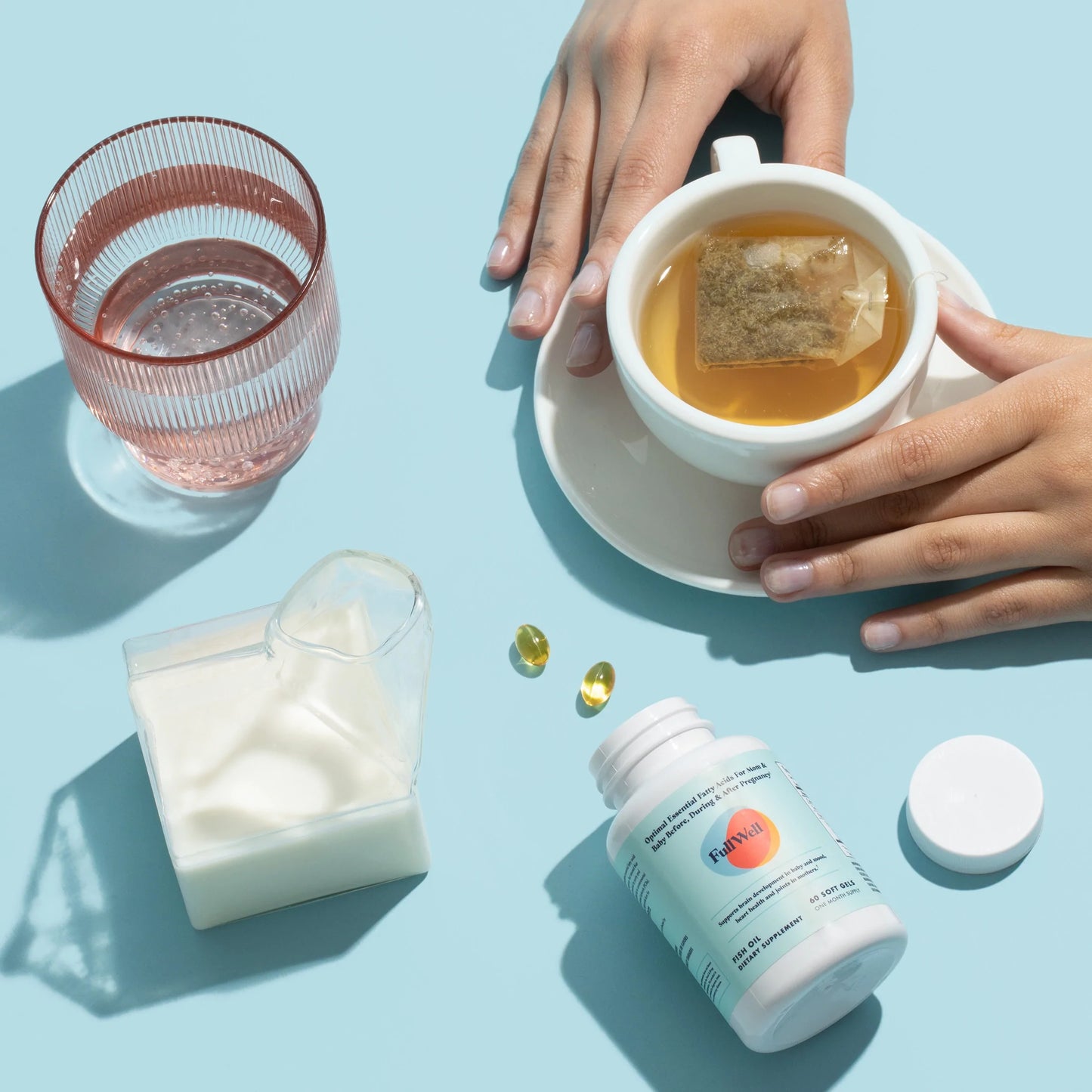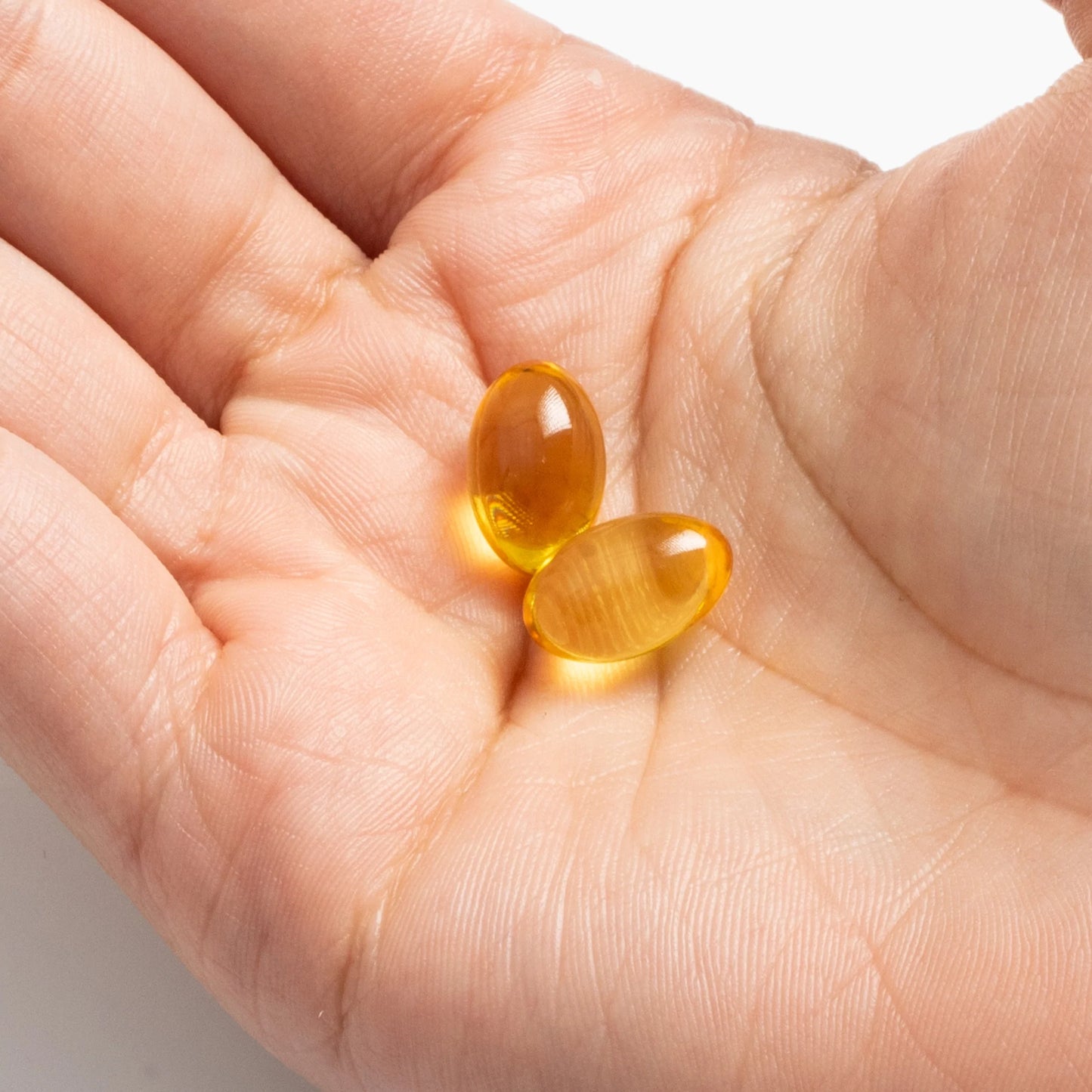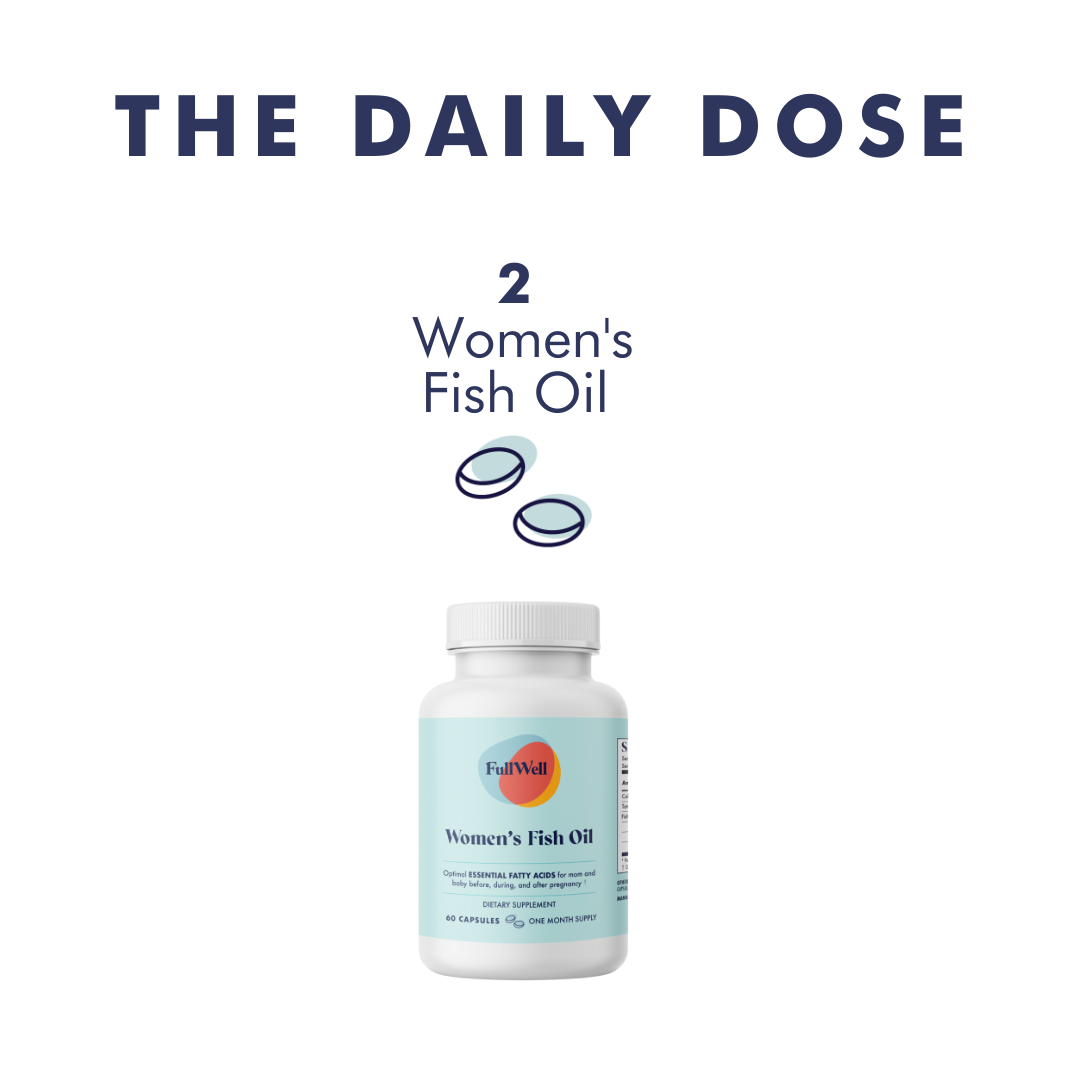 How to take your Fish Oil

ALL AT ONCE
Feel free to take your fish oil along with your prenatal. They are separated simply because they oxidize at different rates, not because one hinders absorption of the other.
Ingredients at a glance
Eicosapentaenoic Acid (EPA)
Supports optimal immunity*
Helps DHA pass through the placenta to baby*
Ensures a healthy birth weight*
Docosahexaenoic Acid (DHA)
Supports baby's brain and early vision development*
Support baby's nervous system development*
Supports mama's mood during the postpartum period*
Women's Fish Oil FAQs
Why EPA & DHA?

Omega-3s - in this case DHA and EPA - coexist together in nature. Rather than isolate just DHA, research supports the importance of having a combination of both of these fatty acids, and your needs for both of them are higher in pregnancy than other periods of life because moms are the primary source for developing babies.
What are the benefits of taking FullWell Fish Oil during pregnancy?

Research shows that consuming omega-3s during pregnancy can increase the length of pregnancy and birth weight by altering the balance of eicosanoids involved in labor and promoting fetal growth by improving placental blood flow.*
Does it taste... fishy?!

Nope! Our easy-to-swallow gel capsules encompass the fish oil to make it odorless and flavorless going down. You may notice a slight aftertaste if you happen to burp after taking them, however, this is totally normal (and no, the capsules are not inherently burp-inducing :)
Customer reviews
Omega
I was looking for an omega supplement. I am 73 and made a mistake buying this brand for nursing and pregnant mothers. I open bottle before I realized this. Seller would not accept a return nor refund. Total Mistake. Seller said sorry nothing I cAn do. Oh well. Slap in the face. No happy
Hi Patricia, our DHA: EPA ratio in our Women's Fish Oil makes it an excellent choice for brain health and can be used by adults at any age.
Unfortunately, due to regulations relating to safety and quality, we cannot accept opened product. We hope that you can make use of this high quality fish oil!
Fully Well
I have just finished my first month of multivitamins & fish oils and I believe these have greatly assisted in reducing the pain I have in my menstrual cycle. I have had less pain and my moods have been steady. I also have noticed my skin is a lot clearer and not so dry. These are supplements I look forward to sharing & continuing to take. Thank you x
Easy to take & I love knowing I'm supporting my growing baby's brain health.
My fave fish oil
The best fish oil I've tried thus far. No fishy burps. No off-putting smell. The only thing that would make this better IMO is a higher potency option, but I just take 4 pills instead of 2 to get a higher dose.
Excellent Fish Oil Supplement!
Absolutely no "fish" smell or after taste. I've also noticed a decrease in inflammation with consistent use!