Regular price
Sale price
$49.95
Unit price
per
Your vitamin & mineral needs are fully covered with our expert-formulated prenatal vitamin & mineral complex designed specifically for men.
1 bottle shipped every month
Fast shipping | 2-4 business days
Transit times reflect continental US shipping. Canadian shipping ranges from 3-9 business days. Carrier delays due to seasonal peaks or weather conditions may occur.
Highlights / Why You'll Love It:
RD-formulated, MD & OBGYN recommended
Full 3rd party testing transparency for heavy metals, microbials, and potency
Non-GMO + Allergen-friendly
FSA / HSA eligible
Bioavailable nutrients for optimal absorption
Details

FullWell Men's Multivitamin delivers optimal, evidence-based forms and doses of nutrients in one potent yet easy-to-tolerate formula. You'll find fertility non-negotiables like methylated folate and B12, and chelated minerals in active, bioavailable forms, plus our exclusive antioxidant blend to support healthy sperm.
Testing

FullWell exceeds current prenatal standards by using third-party, independent testing for harmful contaminants - including heavy metals - on every single lot we produce. To see testing results for your lot, email cs@fullwellfertility.com.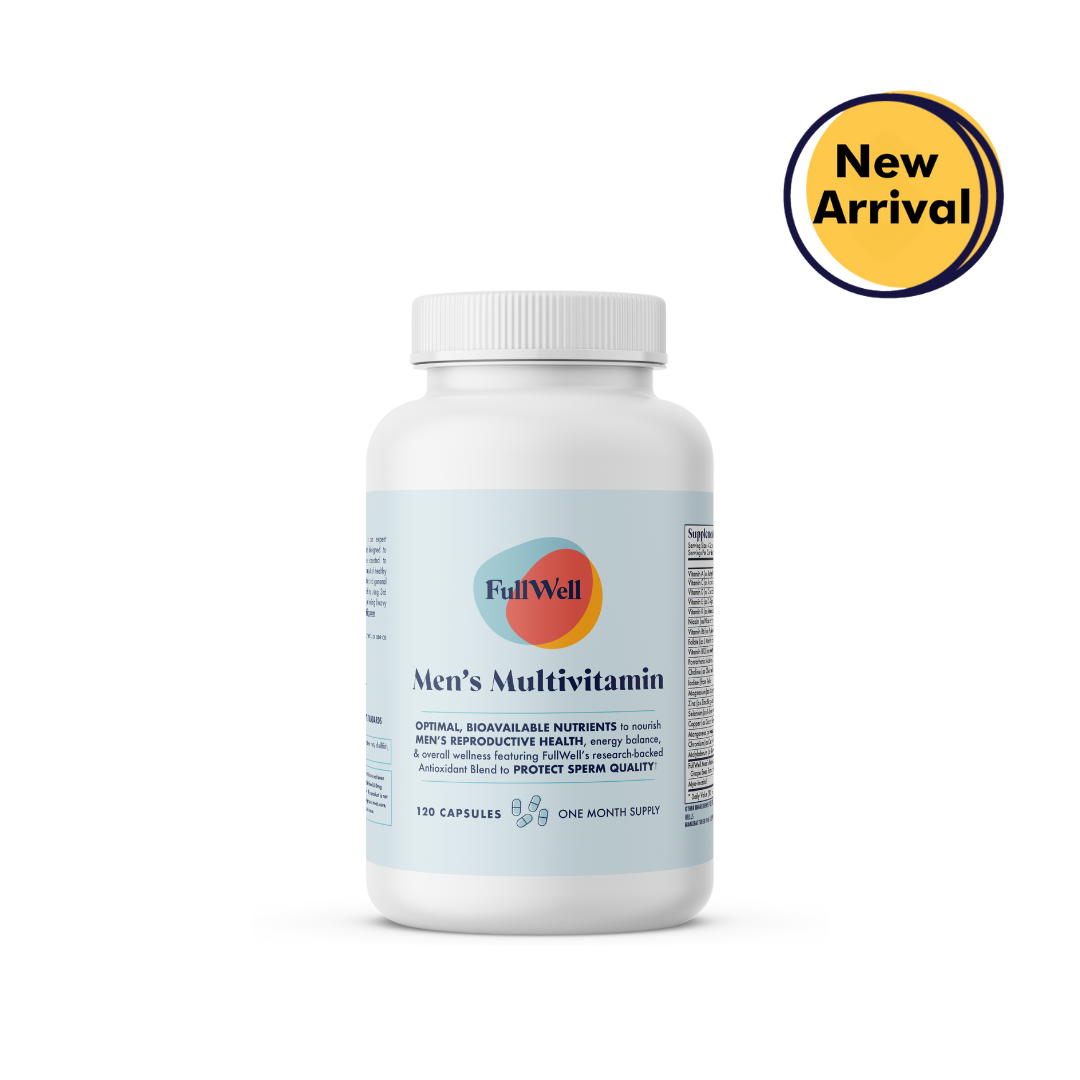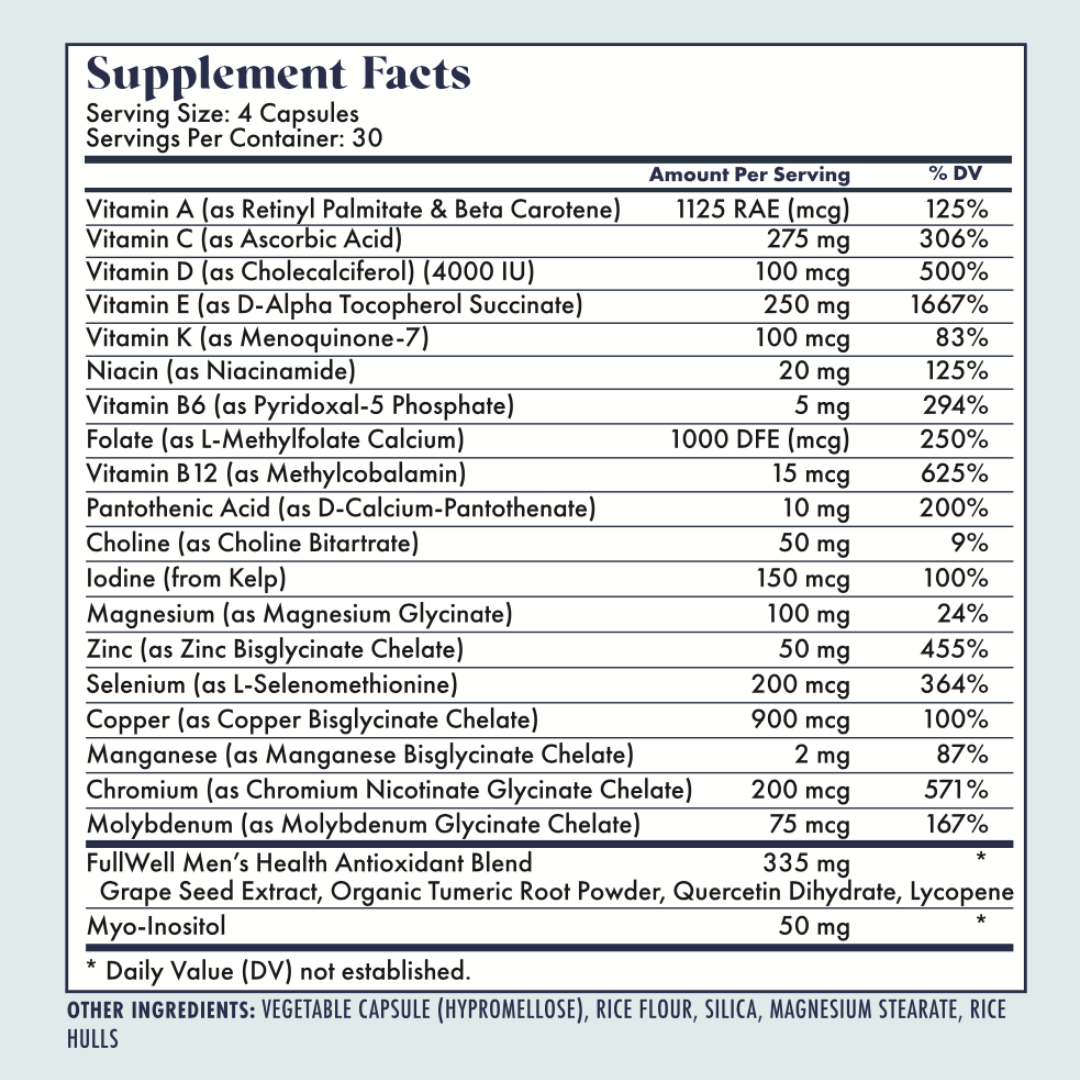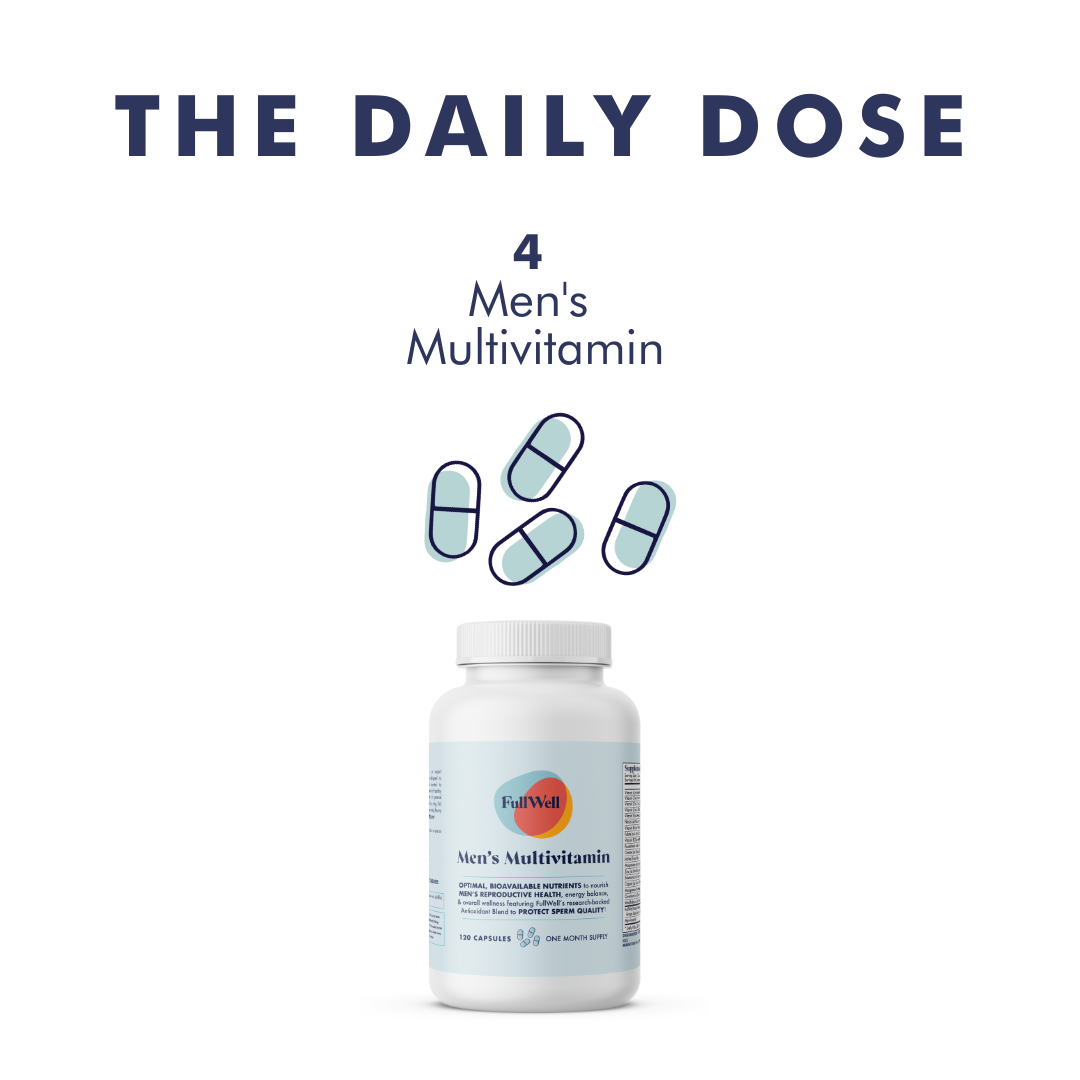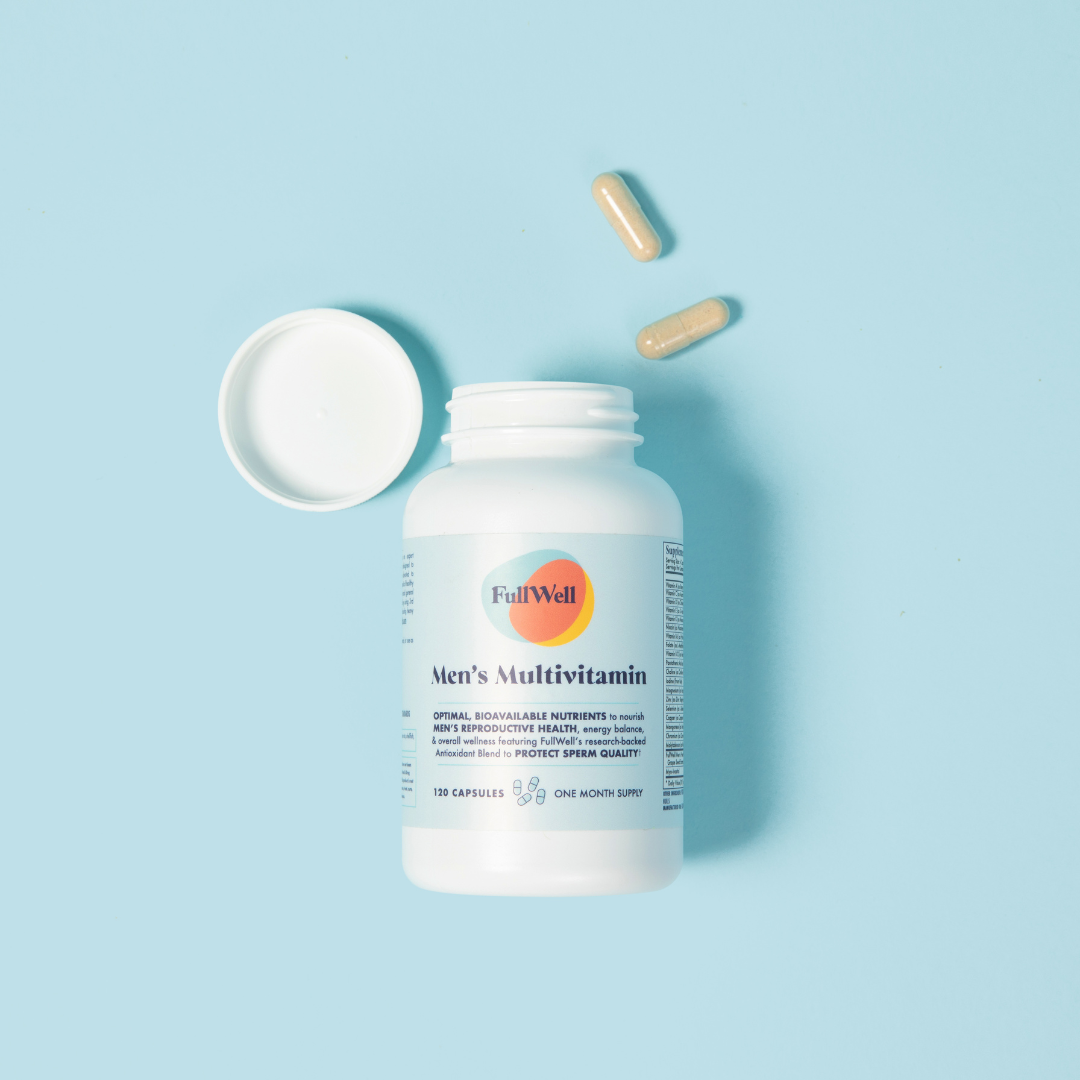 Taking Your Prenatal

ALL AT ONCE
If all 4 at once is no problem for you, go for it!

DIVIDE YOUR DOSE
2 at breakfast + 2 at lunch

MIX IT UP
Break open your capsules and mix them into your favorite cool beverage
Ingredients at a glance
Folate
Vital for healthy sperm production
Plays a role in synthesizing, repairing, and methylating DNA
Choline
Supports liver function*
Supports arterial blood flow*
Vitamin D
Can boost testosterone levels*
Enhances environment for sperm production*
Fortifies immune system*
Vitmin K2
Works synergistically with vitamin D & calcium*
Stimulates testosterone and sperm production*
Magnesium
Supports sleep and mood*
May help with immune responses*
Improves sperm development and motility*
Iodine
Required for normal thyroid function*
Protects endocrine health*
Vitamin B12
Promotes healthy cell metabolism*
Supports sperm count and motility*
Improves sperm DNA*
Chromium
Helps maintain normal glucose levels*
Supports carbohydrate, lipid, and protein metabolism*
Magnesium Stearate
Improves consistency of nutrients and capsule quality
Delays breakdown and absorption of capsules
Manganese
Trace amounts needed for normal sperm function*
Metabolizes carbohydrates, amino acids, and cholesterol*
Supports healthy blood pressure levels*
Molybdenum
Vital for healthy liver detoxification*
Aids in metabolism and helps regulate blood sugar*
Niacin
Helps convert carbohydrates into glucose*
Metabolizes fats and proteins*
Makes hormones*
Pantothenic Acid
Aids in testosterone production*
Necessary for chemical reactions within cells*
Helps metabolize carbohydrates, fats, and proteins*
Selenium
A powerful antioxidant that fights oxidative stress*
Plays key role in thyroid hormone synthesis and function*
Vitamin A
Essential for sperm maturation*
High antioxidant capacity*
Supports healthy thyroid function*
Vitamin B6
Supports mood*
Enhances sleep*
Supports cell regulation and metabolism*
Vitamin C
Increases sperm count*
Improves sperm motility*
Can help reduce free-radical induced DNA damage*
Vitamin E
Powerful antioxidant*
Protects sperm cell membranes*
Increases circulation and mitochondrial health*
Zinc
Key to healthy immune function*
Supports healthy, full-term birth*
Keeps hormones regulated*
Myoinositol
Makes insulin more effective*
Supports overall sperm quality*
Improves sperm mitochondrial function*
Quercitin Dihydrate
Supports healthy blood pressure*
Can optimize healthy testosterone levels*
Turmeric
Powerful anti-inflammatory*
Stimulates other antioxidants*
Men's Multivitamin FAQs
Why do men need to take a fertility-focused multil?!

The role of fertile, healthy sperm goes beyond just conception. Sperm quality; count, motility (movement), and morphology (shape and size) all contribute to overall healthy pregnancy and the health of the baby over the long term. Our men's prenatal is an evidence-based formula designed to support optimal sperm quality, hormone health, and overall male fertility. Several of the nutrients work together to support sperm parameters (quality, and structure), healthy free-radical defenses, hormone levels, and overall wellness, which means it is also an excellent multivitamin to continue taking well beyond conception.
When should I start taking the men's multi?

The answer is the same one we recommend for women: way ahead of time. In order to better prepare your body and sperm for conception, you should ideally start taking our men's prenatal at least 3-6 months prior to trying to conceive, freezing sperm, or undergoing fertility treatment. The average man produces 50-100 million sperm daily, but it takes about 2-3 months for them to fully mature. During this period, it's critical to support developing spermatids with optimal nutrients that support free-radical defenses.* This is a supportive formula for men's preconception, but can also be used to continue to support overall health and vitality over the long term.*
Why is my urine bright yellow after taking my vitamins?!

A nutrient in this blend - quercetin dihydrate - is a flavinoid commonly found in plants. The "flavin" component, which is a bright yellow color, is responsible for the change in urine color. Yellow urine does not mean that you are not absorbing those nutrients! It is simply a normal, natural byproduct of this water-soluble B vitamin.
What else can I do to support my sperm health?

Iron needs and tolerance vary significantly by individual. We suggest you monitor your iron status with your healthcare practitioner and if you do need supplemental iron, take it separately in appropriate doses at their recommendation. This way, you don't risk having iron interfere with the absorption of other critical nutrients in your prenatal.
Customer reviews
Yes, finally a prenatal for men!
My husband took these everyday when we were trying for baby #2 and loved it.
Love it! My husband takes it :)
My husband doesn't mind taking this! I'm so glad he's taking a high quality men's prenatal. More people need to know that men's health can make a difference in fertility outcomes. Thanks FullWell!
Worth it
I bought these for my husband, and he is actually taking them, and he likes the fact that it's not too many pills!!
Thanks for the 5-star review, Alissa!